You may think that Singapore is small and has nothing much to see, but given a week, you can still fill every day with activities and things to see. I started exploring Singapore more deeply back in July 2020 (Exploring Singapore) and also in November 2020 (haha, no post yet). I've found that every time I think I'm running out of places to see, that's also when I find something new.
On this episode, I planned each day to be spent on a certain location throughout the day:
Monday: Chinatown area
Tuesday: River Safari
Wednesday: Gardens by the Bay
Thursday: Sentosa
Friday: Museums (NUS + ArtScience Museum)
Chinatown
The theme for Monday is Chinatown, where I followed a walking tour guide from Visit Singapore.
I started at Chinatown Heritage Centre, which was unfortunately closed for renovation till April. Oh well, I moved on to the next plan then: Sri Mariamman Temple and Masjid Jamae. I didn't go in as I thought it's meant for devotees during this pandemic period. Later, I walked to the Haji Lane and saw the murals. Next, I walked to Club Street and realized that even though I visited Chinatown so many times, I never walked to this street before. After that, I visited Buddha Tooth Relic Temple & Museum, where I visited the relic chamber and then its museum. It's unfortunate that they didn't allow photography inside even though I recalled that long time ago there's no such restriction.
After the temple, I explored some of the shops around and was quite interested in some prints from the art gallery, but decided against buying as I don't have space to display them. I walked to Chinatown Complex to explore and have my early lunch: char kway teow from the Zion Rd Char Kway Teow stall which temporarily relocated here. It was pretty good, but I still prefer Penang char kway teow more than this.
After lunch, I walked to Keong Saik Rd for Hvala but I only realized they were closed for renovation when I reached there! Damn.
When crisis do happen, you can be sad about it, or you can do the next best thing
So I did the next best thing: I went to Apiary, an ice cream cafe nearby, and even though it melted quickly, their ice cream was dammmn nice!
It was slightly over 1 pm and I almost completed the Chinatown tour plan. To kill time, I visited URA Building for the Singapore City Gallery and wow, the gallery was amazing! It displayed so many historical maps. I mean, MAAAaaaAAAAAaaAAAAAaaAAAAAAAaaAAAAAps!?! It also housed many maquettes that models Singapore, which is really amazing. I spent around 2 hours here.
Next, I walked to Thian Hock Kheng Temple, passing Ann Siang Hill Park. The temple was indeed very old and contained many deities that I did not recognize. After that, I walked along Telok Ayer St towards Singapore River area, stopping to view some more landmarks like Ying Fo Fui Kun and Fuk Tak Chi Museum (both were closed) and Yueh Hai Ching Temple (which was an interesting temple as it has a large courtyard, but only two small halls for the deities). As I reached Singapore River, I decided to continue walking to Hvala at Chijmes, which was 20 minutes away. While passing Victoria Concert Hall, I took picture with Thomas (Stamford Raffles).
At Hvala, I realized that the items there were expensive! But since it was my first time, I decided to just go ahead and order a few things: matcha ice cream, cold brew (tea), and a slice of black sesame cake, which sets me back almost $30. The ice cream was so-so, much less tasty than Apiary's and much more expensive. The tea was nice, as it got a nice and sweet aftertaste, even though the portion was small. The highlight was the cake: it tasted very unique, and it was good!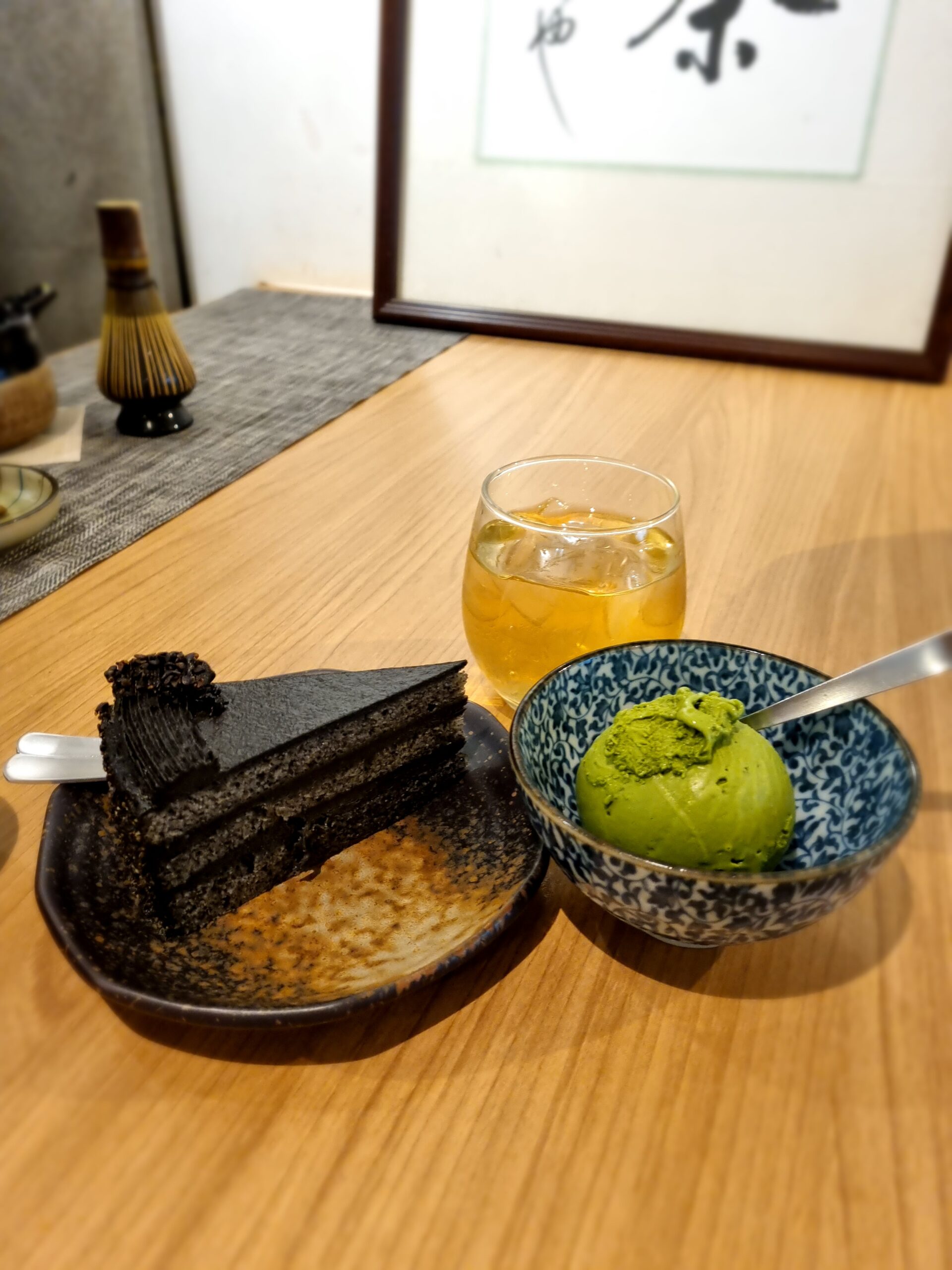 For dinner, I went to Raffles City mall and headed to Muji to have their deli set or as people called it "atas cai png". I did enjoy it, as the ingredients seemed simple, but all have those Japanese style of subtle taste. After some shopping at Muji, I called it a day and headed back home.
River Safari
Tuesday was for River Safari. It was a small park, and it did not have much exhibits, but I managed to spend my whole day in the park. I started at 10 am, which was the opening time, and I walked the opposite of the suggested route to avoid the crowds, and it paid off! The first few exhibits at Amazon Flooded Forest were all for me. The fish here were really huge, and the Arapaima (looks like Arowana) were really beautiful.
I tried to went to the Squirrel Monkey Forest zone but it wasn't open yet. After resting for a bit, I initially planned to catch the Once Upon a River show, but apparently all the seats have already been filled half an hour before the show started. I went for the Amazon River Quest boat ride instead. There were times where the sun shine was really strong but the ride were thrilling! Saw some animals here like some monkeys, anteater, tapir, jaguar, and flamingos. Apparently, you can ride it multiple times too! I rode this ride three times.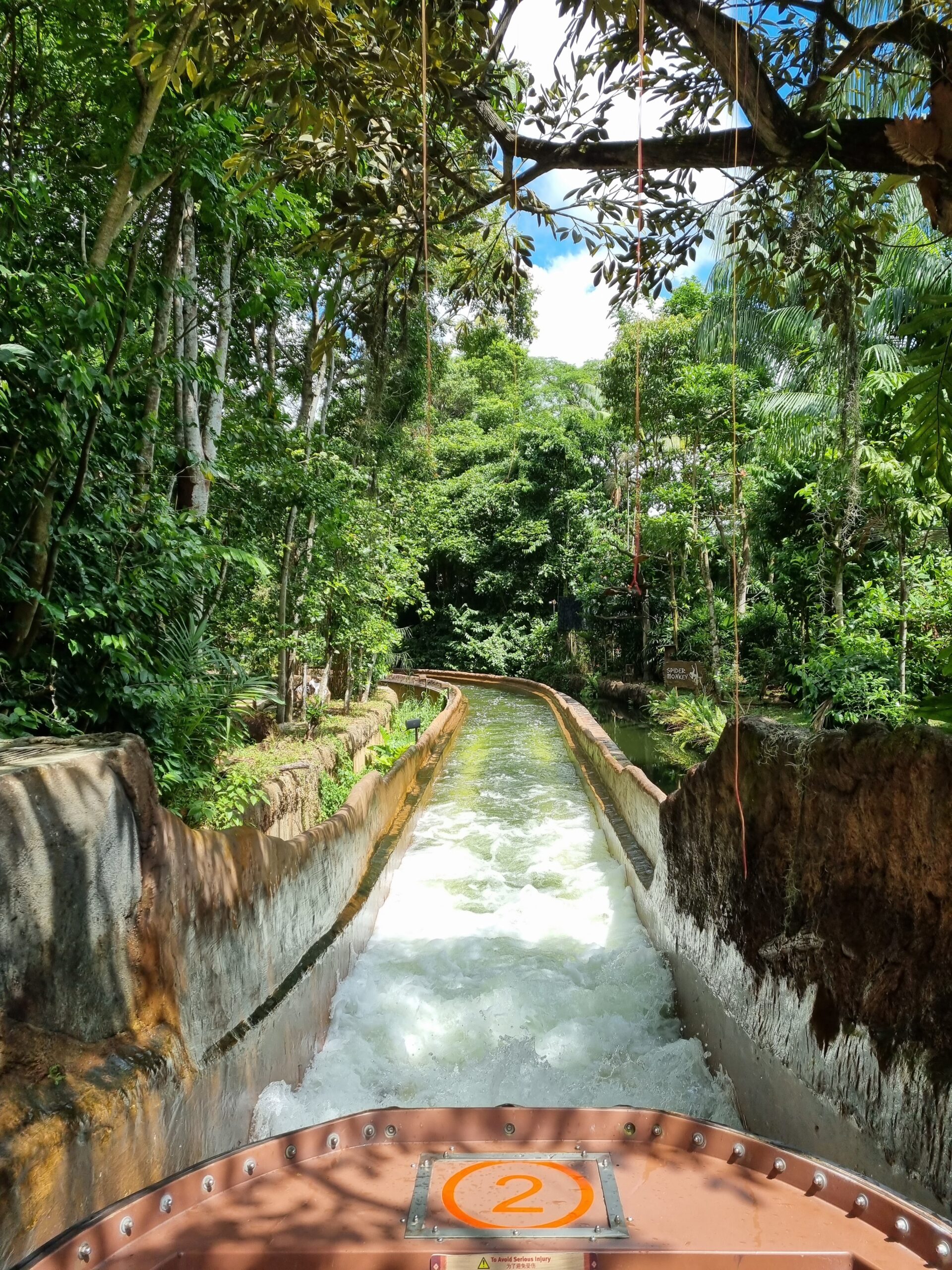 After the ride, I went to the Squirrel Monkey Forest exhibit, and it was a really unique experience to have monkeys all around you. Even the railings were part of their territories and the visitors shouldn't touch them.
I had lunch at the only in-park restaurant there near the panda exhibit. After the lunch, it's time for pandas! I was first greeted by the two cute red pandas who kept scratching themselves. After that, I managed to saw one of the giant pandas before it went for its enclosure to sleep; meanwhile the other one were busy eating bamboos. Quite a fun thing to watch, but in the end, I hang around the red pandas as they slowly woke up, headed to the bamboos, and fed on them.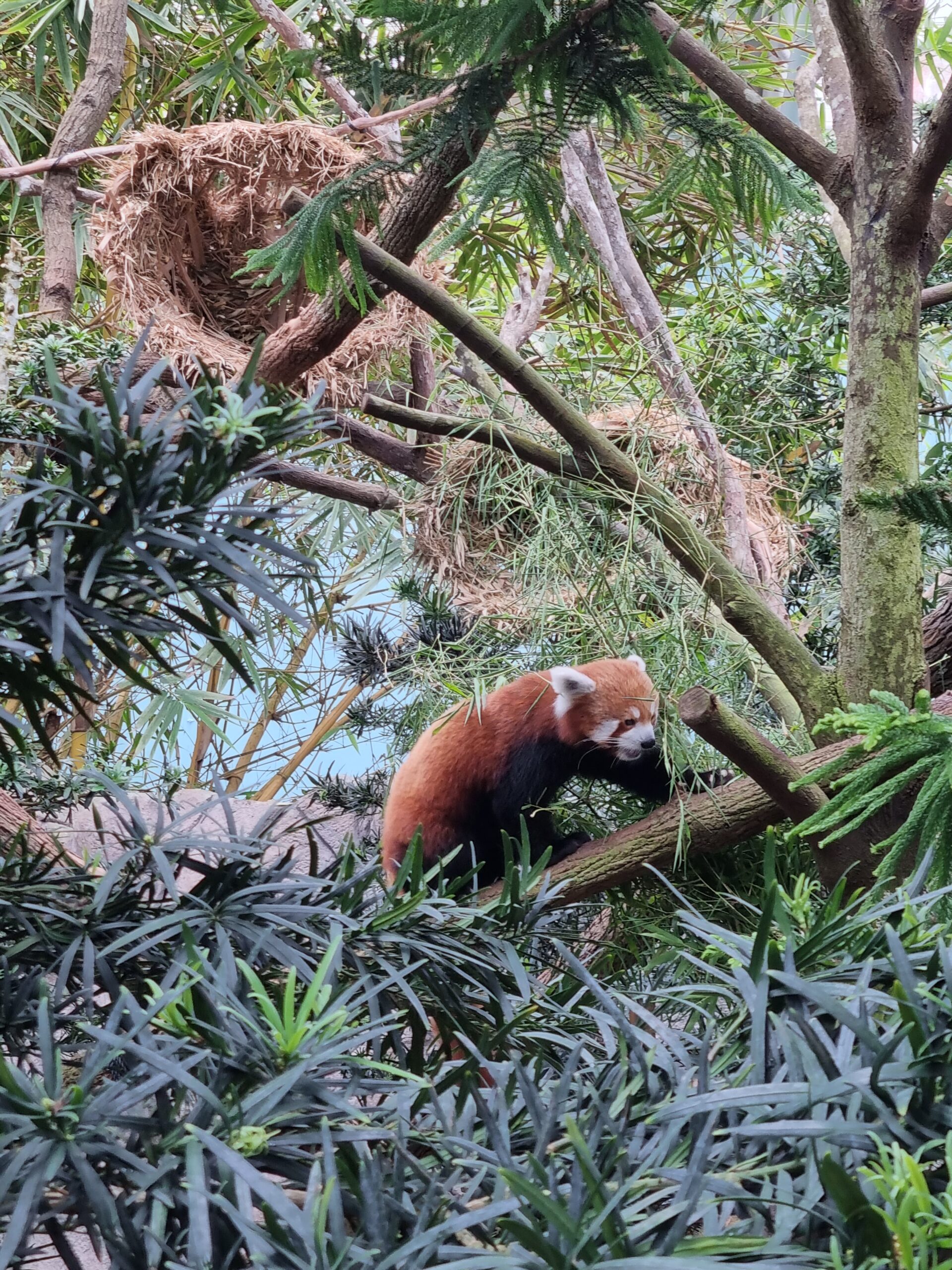 It was around 45 minutes before the One Upon a River show time, and I went all kiasu and went there to see that there were already some queue forming to the opening of the queue! After getting a seat, I waited for another half an hour before the show started. The show featured iguana, owl, horn bill, snake, pelicans, giant otters, and some others. Really a good show! Oh, it also started raining hard during the show but stopped immediately after the show ended.
After the show, it was already around 3 pm and I haven't even seen the first half of the park. I went all the way back to the entrance and officially started my park experience from the beginning. It started with Rivers of the World where they features lots of fish and other stuffs from rivers around the world (duh). Nothing much memorable here, except for the tiger fish which looked pretty scary; Indian gharial which was quite huge; and Mekong giant catfish which didn't have whiskers like other catfish. The sturgeon was pretty unique too, as it constantly looked like it was surprised. Finally, I went to spend time on the panda exhibits, observing the giant pandas for some time, witnessing one of them defecating…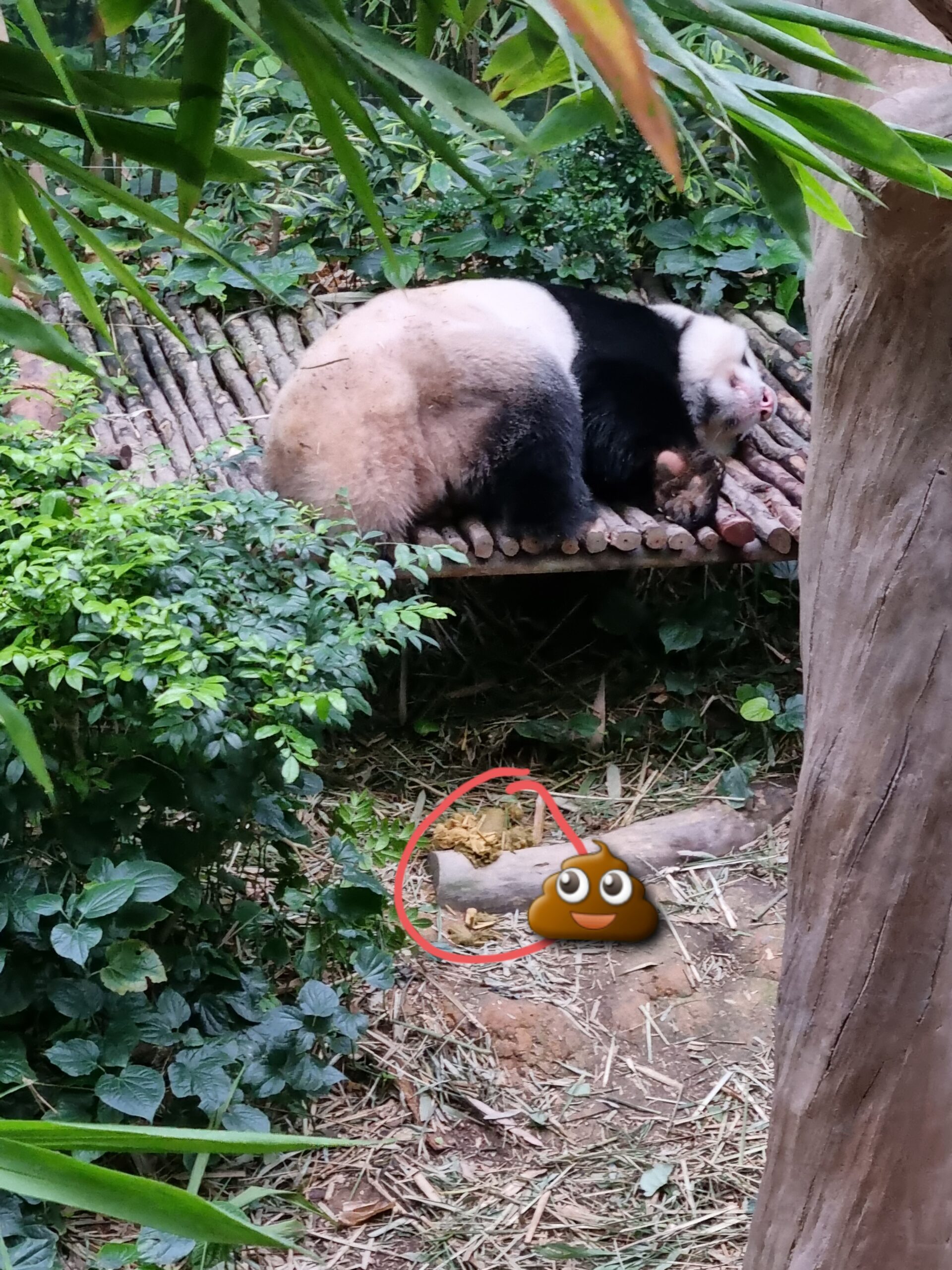 It was raining, but I had to leave the park already as I have a dinner appointment at Sembawang with my friend. As I stepped on the exit gate, I was approached by a staff for park experience survey and I got a drink voucher in return. I quickly exchanged the voucher and went to queue for the shuttle to Khatib. I arrived at Sembawang pretty early and we met for dinner at The White Restaurant for the white bee hoon.
So that was it for Tuesday, my legs are pretty tired now.
Gardens by the Bay
Wednesday was for Gardens by the Bay. Some people might doubt that you can spent whole day here, but apparently you can. My plan was: Orient Express Exhibition, Floral Fantasy, Flower Dome, and finally Supertree Observatory.
I started the day a bit late, and I started with Orient Express exhibition. The exhibition consisted of two carriages and three exhibition halls. It was only then that I realize that Orient Express is a real train service and not some made up train service by Agatha Christie. The carriages featured the preserved interior of the train and some famous people who took the train frequently. After that the exhibition halls featured the details of the train, the old advertisements, and all other artifacts of the train. I walked slowly to spend as much time as I can and I only spent around 1 hour by the end of it. I felt that for the price paid ($25 + $3 booking fee), it wasn't that worth it.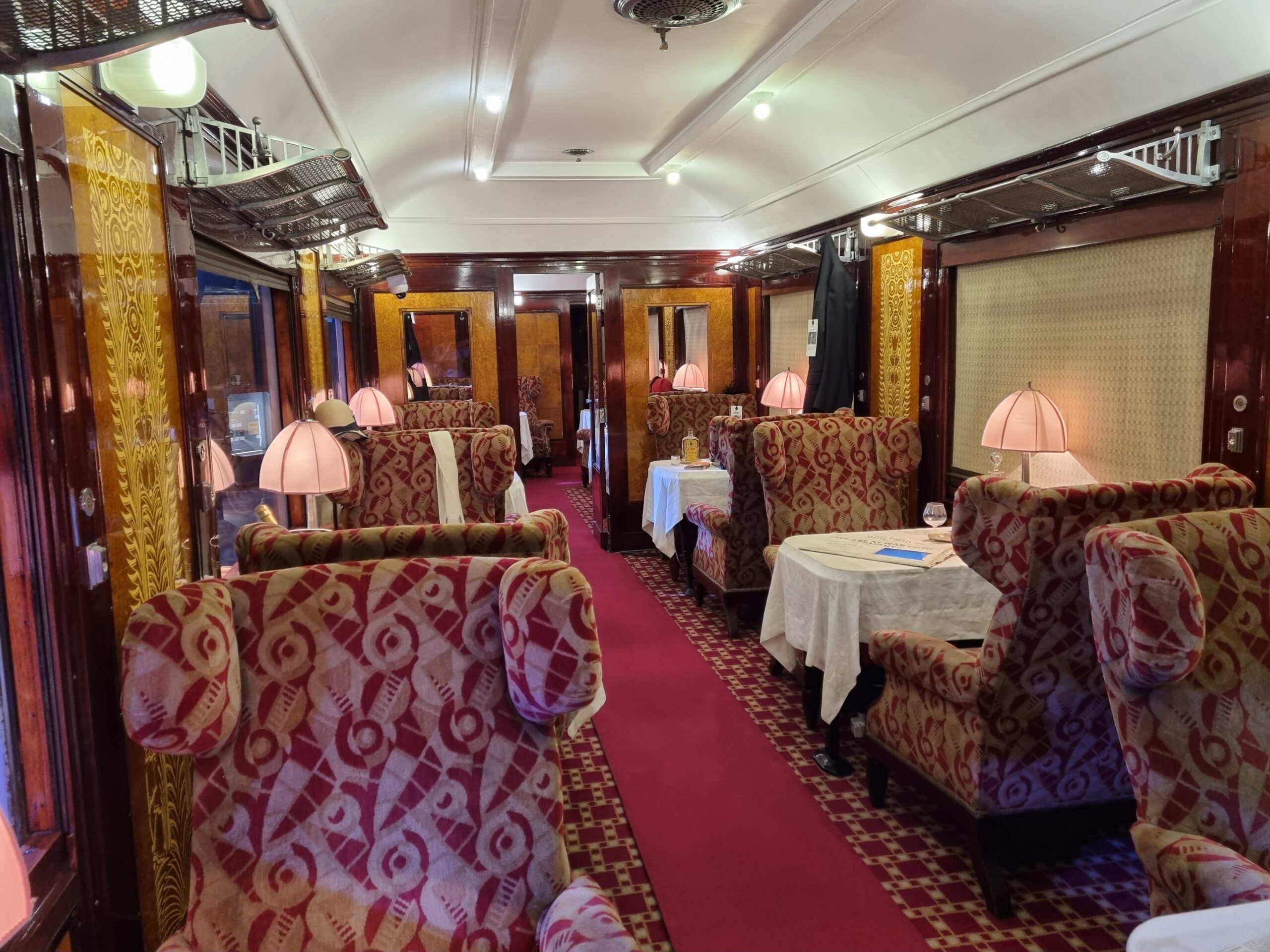 It started raining as I went to MBS food court for lunch. After lunch, my next plan was Floral Fantasy. I was expecting Floral Fantasy to be something like Flower Dome, only smaller. I was wrong, Floral Fantasy was so amazing! Yes, it is much smaller than Flower Dome, but the environment and the scenery were so much better. The flowers were really beautiful! They were specially arranged in such a delicate colors and patterns, and they were real flowers! The background music played also suits the environment really well. I walked really slowly and enjoyed every little things. Because of that, I spent around 1.5 hours and I really enjoyed every moment here. If I move fast in this attraction, I think I can fully cover it in 45 minutes.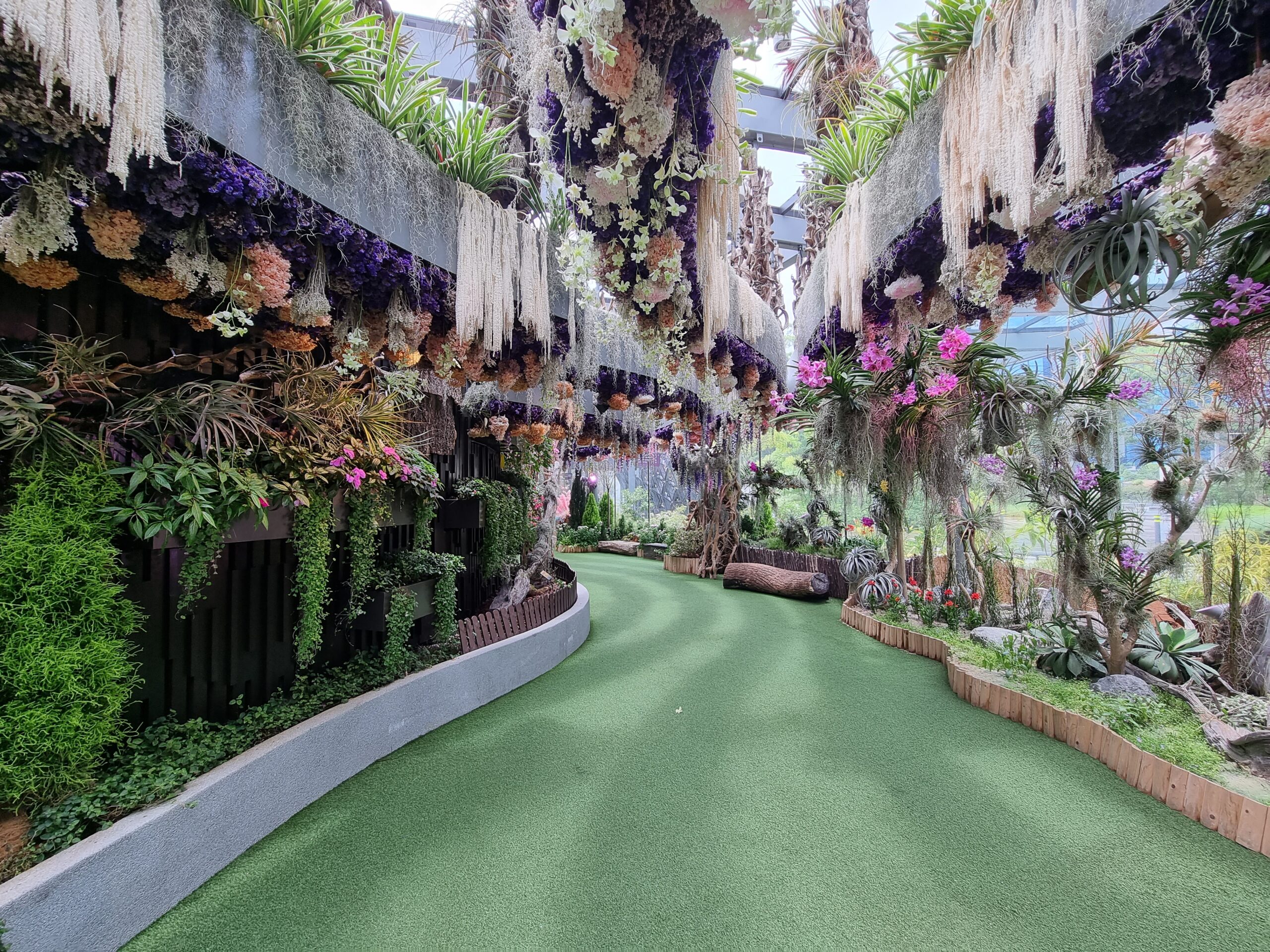 Next is Flower Dome. This was the reason I planned for Gardens by the Bay: I wanted to see sakura flowers. This attraction was crowded, but I wasn't expected it to be this crowded. The cherry blossoms were definitely the highlight and were really pretty, but there weren't as much as shown in their promo pictures. The tree barks were mostly devoid of blossoms and only a few have such blossoms. I also learned about peach blossoms (momo) which from afar could look like sakura, but it has different shapes and characteristics. There was definitely more peach blossoms than sakura. Besides that, I did enjoy the various gardens, noticing the things I never noticed before as I moved slower this time.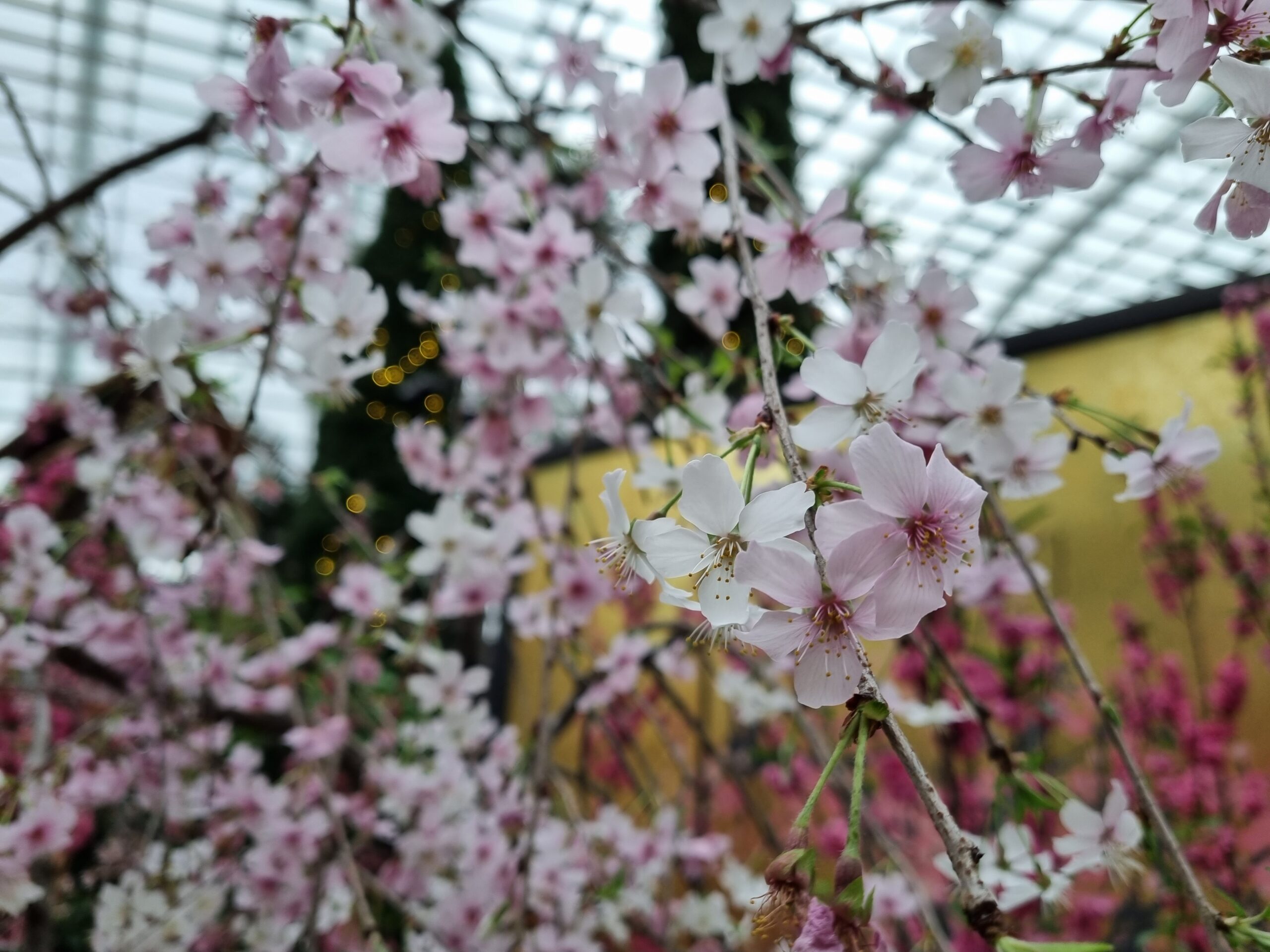 I had my early dinner and headed to the Supertree Observatory. This special structure, which is the tallest supertree in the area, has a circular platform to walk on and an open rooftop. Initially, it was raining and visitors weren't allowed to go on the platform nor the rooftop, we're only allowed at the indoor area which has a nice view, but not that nice. The indoor area featured a snack bar too, in which I got an ice cream for $1 (as it was on a promotion period). I've spent almost 1 hour walking aimlessly in the indoor area and couldn't wait anymore, so I head down to talk to the staff in charge as it was no longer raining. Shortly after that, she came up and unlocked the doors! I headed up to the rooftop and the view was really amazing! The timing was also still good to take pictures: the sky wasn't too dark yet the buildings lights were already turned on. Satisfied with the rooftop, I went to the circular platform and the view there was also great! From the rooftop, the view was mostly things afar (MBS, Singapore Flyer, Marina Barrage, cruise ships), but from the platform, the view was the garden itself. I also managed to catch the Garden Rhapsody show, where music was played and the lights around the supertrees were played in tune to the music. It was really nice to view it from above!
So yeah, Wednesday have ended on a high note and my legs were also really tired now.
Sentosa
Thursday started with light rain, and it was cloudy throughout the day, with occasional showers. I decided to go ahead and proceed to Sentosa. The journey was slightly longer as I had to walk quite a distance after reaching the island. The first place I visited was the Butterfly Park. My first impression was that it was beautiful with so many butterflies there, but upon spending more time, I noticed that the park was quite under-maintained, as there were many decorations that have been out of order but wasn't repaired.
After the butterfly enclosure, I headed to the next section, the bird aviary, but there's only around 5 birds there: 3 parrots and 2 exotic pigeons. Quite underwhelming indeed. I went for the birdfeeding session and it was just handing out some sunflower seeds to the parrot, which was an interesting experience. I moved on to the "insect kingdom" zone, but apparently it was pretty empty and those that weren't empty were filled with things not related to insects.
The final part was the insect museum, which is pretty cool as it was filled with preserved insects and butterflies. A bit sad to see that their corpses were all there, but yeah, I was also quite amazed with the diversity.
After this Butterfly Park, it was already lunch time, and the nearest food place was a Starbucks and I didn't want to eat there. So I walked a bit further, going through the Imbiah Nature Trail, which had lots of loud cicadas, and reached the Siloso Point area.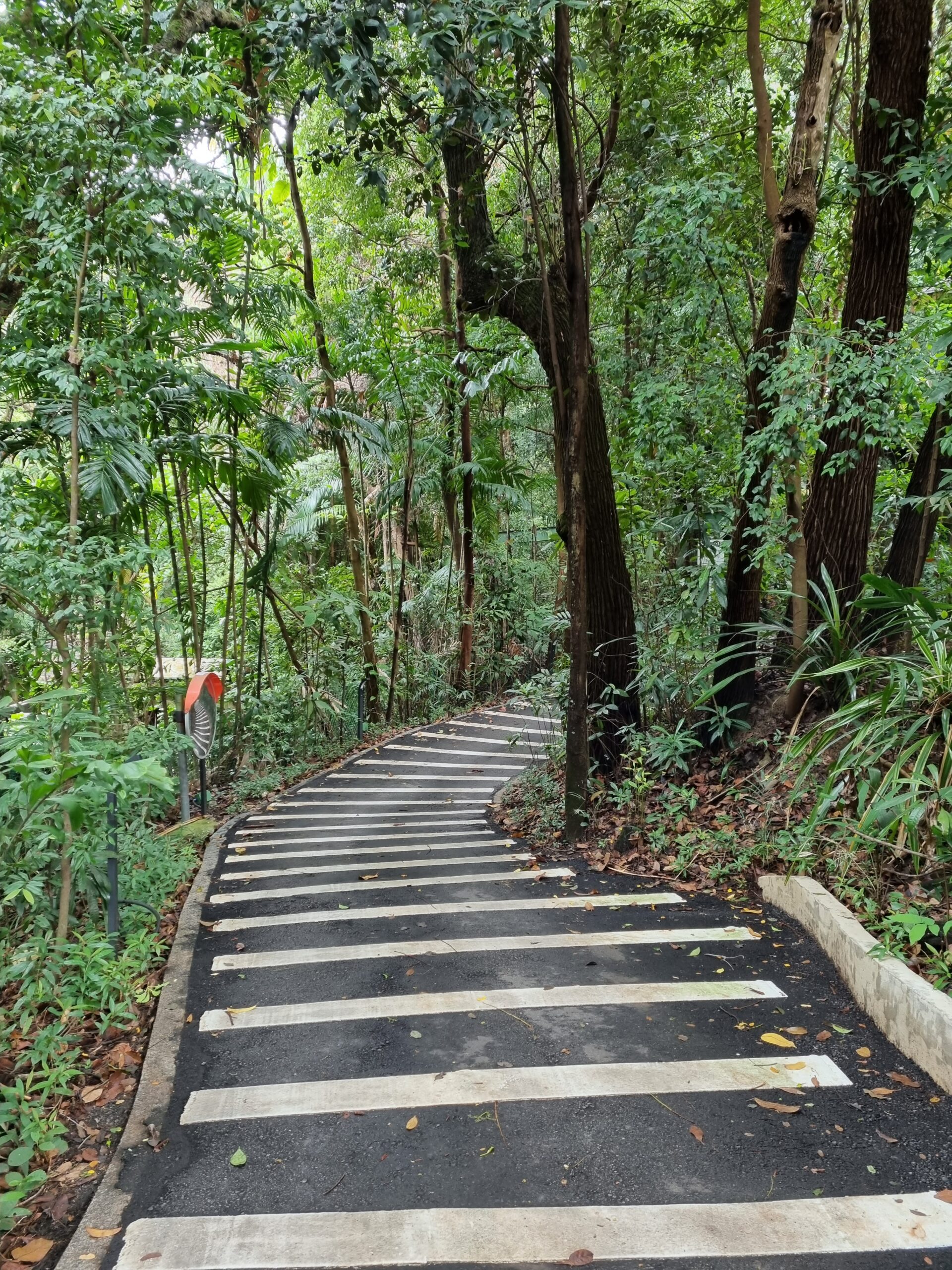 There, I went for the pizza restaurant and ate one whole pan of pizza by myself. Really full, but the pizza was also tasty.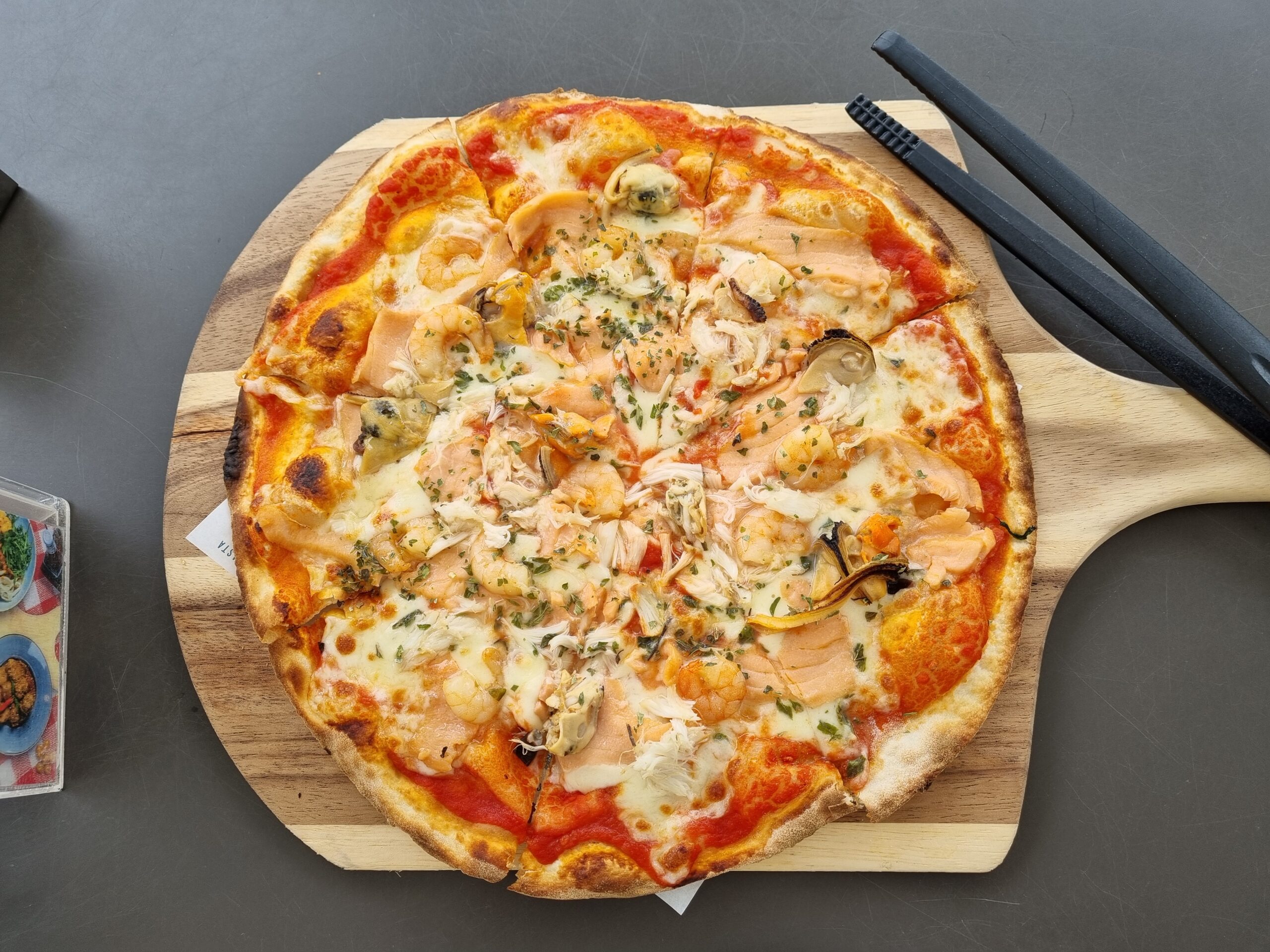 Next, I went to Fort Siloso. The journey started with the skywalk, but unfortunately the lift was under maintenance and I have to take staircase. Quite tiring, but the view was great up there. Walking through the skywalk, there wasn't actually much to see here, other than the forest below, and the hotel beside it. At Fort Siloso compound itself, there were lots of big guns, tunnels, and houses.
I also learned some stories about World War II and how Fort Siloso contributed to it. Definitely an interesting place to visit, even though at times, it could be scary to be alone there in some of the tunnels.
After Fort Siloso, I didn't have any other plans, so I started walking back, and accidentally went to the Coastal Trail, that after quite some time of walk… Ended up back in the Siloso Point.
I was tired, and finally a shuttle bus appeared and I just ride it till it stop at the Resort World Sentosa. I browsed the shops there but nothing interest me, so I went back to take the monorail back to Vivocity, where I spent an hour browsing some stuffs. I headed back home after dinner there.
Museums
Friday was spent with my friend, where we went to LKC Natural History Museum at NUS in the morning. The museum was nice! Good way to relearn biology topics, while seeing the samples of animals and plants that were usually just a small picture in textbooks. I was quite amazed that the samples there were collected mostly from Singapore and Southeast Asia. The spotlight of this museum was indeed the three dinosaur fossils displayed in the middle of the museum. Even though the museum was quite new, the samples collected could trace its roots from the colonial era. In the end, we spent almost 2 hours here in the museum.
Even though I was already hungry and would like to look for food, my friend dragged me to the NUS Museum just right beside this museum. The staffs there seemed quite happy that there were visitors to their museum. The admission is free, but you have to complete both SafeEntry and the NUS Visitor Registration Form which has pretty terrible UX. After entering, we realized that this museum is huge, has more floor space than the LKC Natural History Museum, and I think we would need around 2-3 hours to cover everything. We skimmed through all the galleries in 30 minutes and went out for food. We had lunch at The Tea Party cafe near NUS Sport Hall.
After lunch, with rest in MRT, we traveled to ArtScience Museum and went to the three galleries in the basement level. The first exhibition we went to was Future World: Where Art Meets Science and it was great! The exhibits were mainly digital lights and most of them were interactive which why I liked it a lot. There were definitely some exhibits that are really Instagrammable but I think the most amazing exhibit was where the one that visitors can color drawing paper, scan it, and it will be displayed as a creature flying in the wall screen. This meant that what is seen in the exhibit is only there on that moment, and the moment will be truly unique as such configurations will be only shown once and only once. I also like the exhibit where we can generate music by dragging and drawing stuffs on the touchscreen display.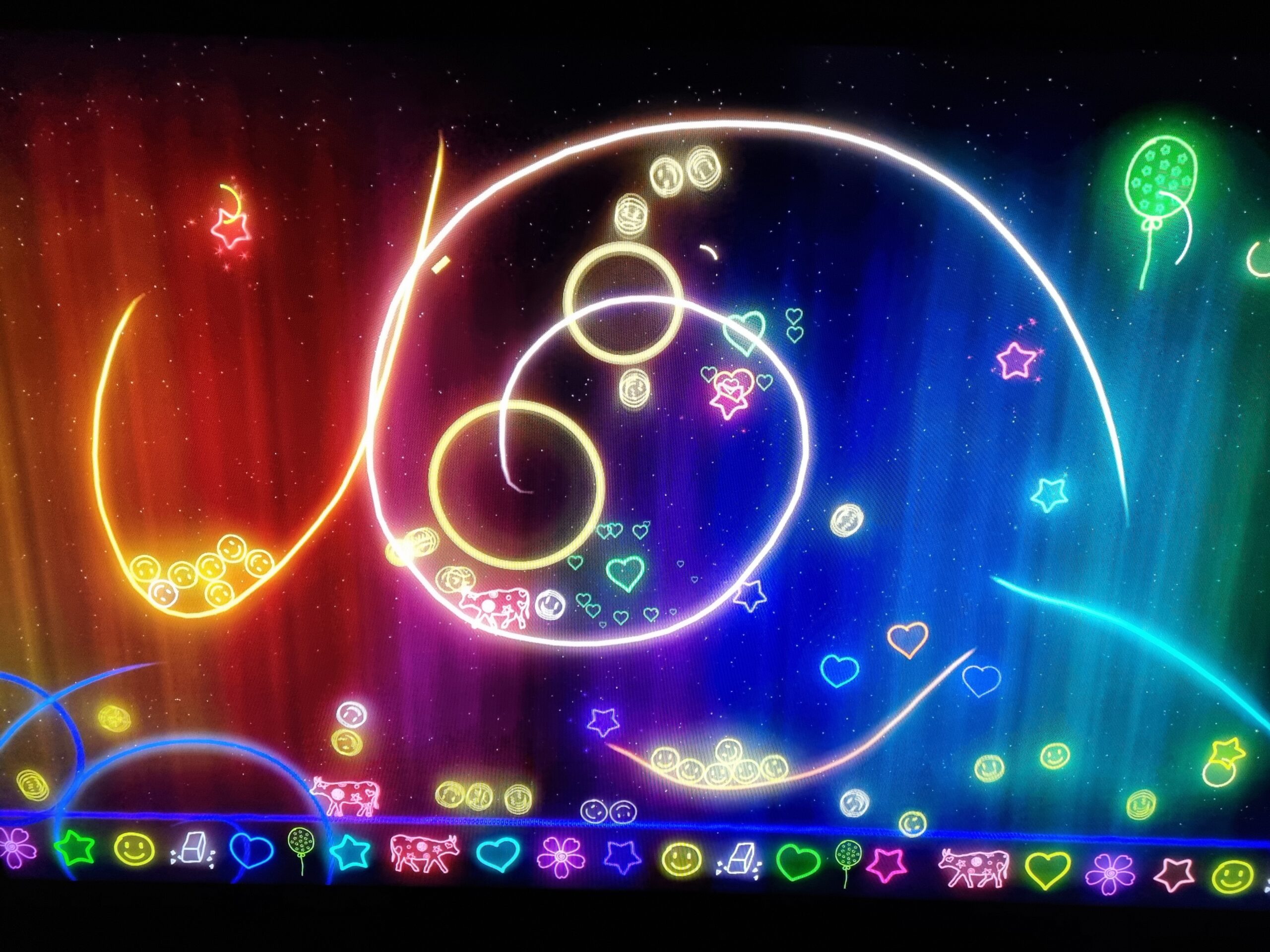 The next exhibition we visited was Margins: drawing pictures of home. This was a photography exhibition of things happened in Singapore. I think it's pretty short as we spent only around 30 minutes here, but the photographs were definitely really beautiful, some of them told stories, some of them invoked emotions, and some of them even were quite funny.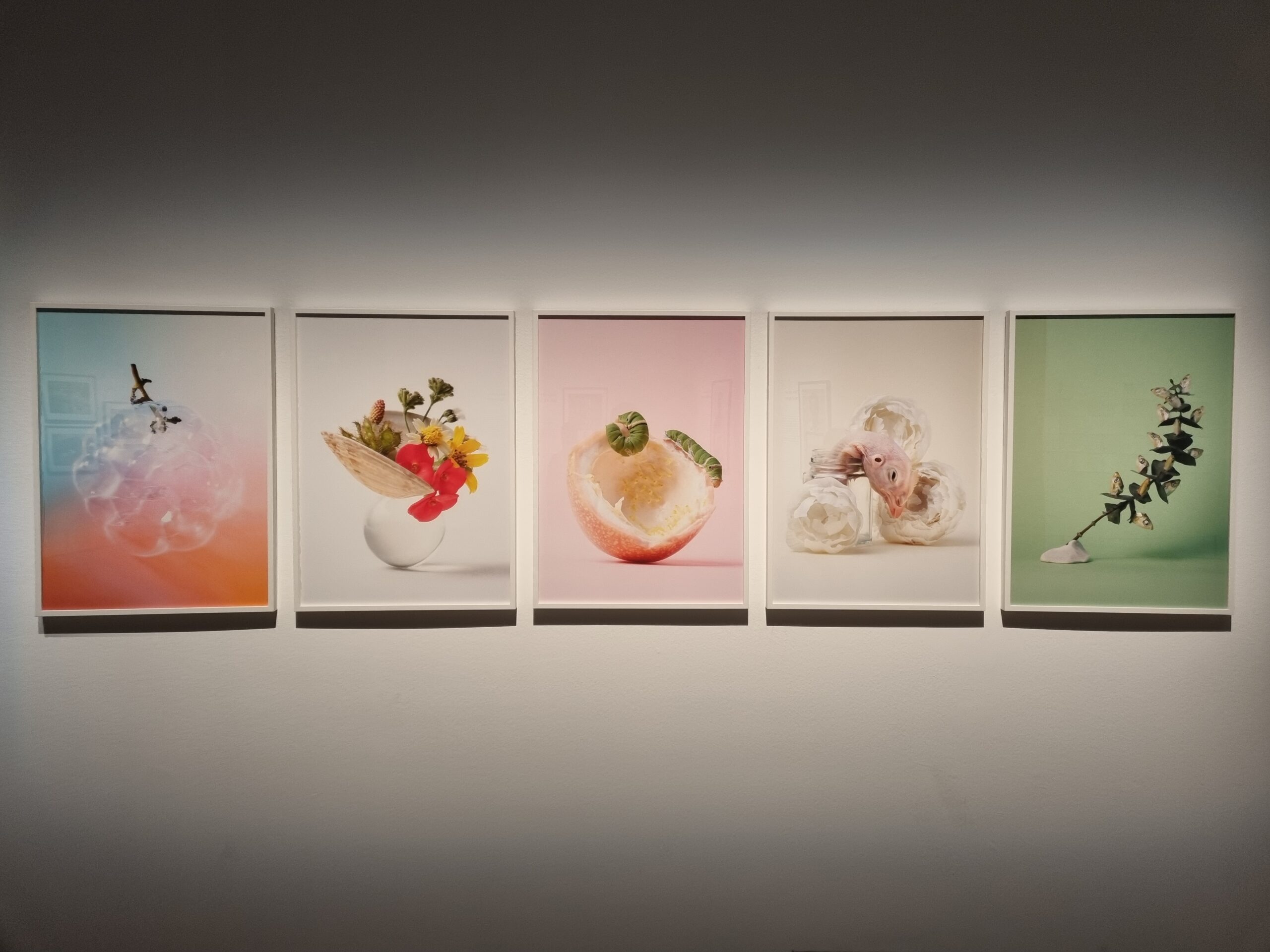 The final exhibition we visited was Planet or Plastic, which featured lots of beautiful images from National Geographic. This exhibition felt really impactful as it highlighted the issue of plastic pollution in the planet. I was quite surprised that usage of plastic boomed only after World War II, and recycling efforts didn't even exist before 1980s. Plastic is an amazing material, it is highly malleable and quite durable, but its usage on stuffs like product packaging and single-use plastic is really harmful to the environment if not properly disposed.
Anyway, after this exhibition, we went to Millenia Walk for a Turkish kebab meal and we went home afterwards.
Epilogue
The week has been a really tiring one. I clocked more than 120k steps!
The best moment of the whole week was when I was in Supertree Observatory, where the rain stopped and I waited till they allow us to step outside and when I did, the view outside was amazing! Felt really happy.
It was definitely a week full of activities and was a great way for a break from work.
I think I'm running out of places to visit now, but there would definitely more things to explore if I were to search about it. Maybe that's for Episode IV?