Right after my Cruise to Nowhere trip, I had several more off days to spend in Singapore. Because lots of my plans were cancelled in Episode IV, it was time to revisit those plans.
This time, my destinations were revolved around food and the activities filled in between weren't fixed. Because of that, I started the day a bit late during lunch instead of in the morning. This way, I would be more relaxed as it supposed to be.
During the four days of leave, I visited Tanglin area, Changi area, Downtown area, and West Coast area.
Tanglin
On Tuesday, 5 October 2021, I visited two destinations at Tanglin area: Dempsey Hill and Botanic Gardens.
I went to Dempsey Hill area for lunch. When I alighted at the bus stop along Holland Rd, I immediately realized that one of the unmarked path would lead to Istana Woodneuk and the path looked pretty scary (and illegal too, as it was private property and visiting it is considered trespassing).
Lunch was at Da Paolo. I had pizza and then ice cream. The pizza was good, although a bit much for one person.
After lunch, I walked around the area and explored some art galleries there.
There was nothing much else to see, so I walked to Botanic Gardens. Although I visited it back in May, there were still parts of it that I haven't seen, that's why I came back again. This time I started from the south, but entered wrongly, and when I realized, I was already very close to the Gallop Extension, so I went ahead to enter it.
When I arrived at Gallop Extension, visitor service approached me and introduced me to the area. After that, I went to the two houses (Atbara House and Iverturret House) that used to be the French Embassy and now turned into museum galleries. The architecture of the houses were really unique.
Next, I explored the area and ended up at Ramblers Ridge. There were quite a lot of steps to the top where the surroundings suddenly felt like rain forest. The "hiking" lasted very short before I found the descent and exited the ridge.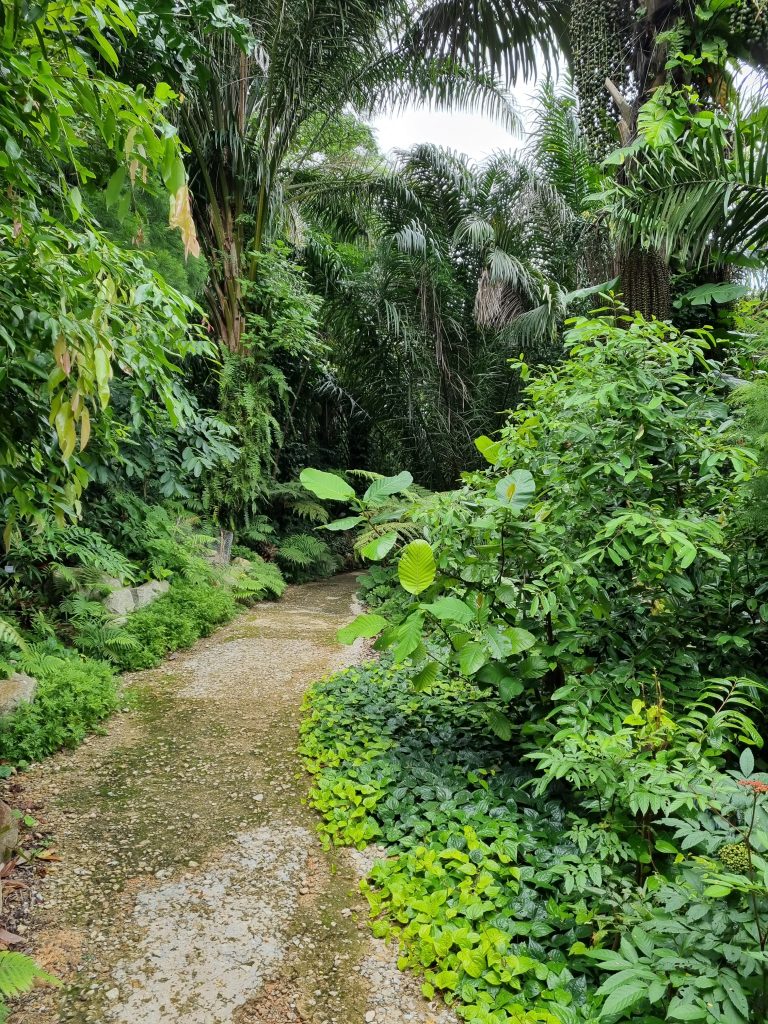 After that, I went to the main garden, walked all the way to the Heritage Museum and Green Gallery. The museum here explained the history of the garden itself: I learned that in the past, in order to sustain operation costs, they even had a zoo for a short period of time. Next, I saw some cool lab work in progress at the Botany Center.
I headed into yet another "hiking" trail called the "Rain Forest". It was much longer than the Rambler Ridge, but this time the path was well-maintained and the trek even had railings.
I ended up at the Ethnobotany Garden, and learned some interesting stuffs at Center for Ethnobotany. Apparently cashew nuts are not related to peanuts and they're more closely related to mangoes. I also learned that the mango family features lots of fruits (like binjai and kuini) and that a lot of the species are poisonous.
Finally, to end the day, I exited the garden at the Bukit Timah Gate and headed to Adam Road Food Centre for dinner before going back home: pork leg bee hoon and avocado juice.
Changi
On Wednesday, I went out for lunch at Kota88 Restaurant. Located around Bedok, it is surrounded by a lot of shop houses and cafes, such a good atmosphere. I ordered Mie Keriting – Babi Komplit Spesial (pork noodle with all the special toppings) and it was really nice, the curliness of the noodle was almost the same as the wanton noodle I had from my hometown. The roasted pork was also really crispy. The chili was truly hot & spicy, with a kick like how Indonesian chili tasted like.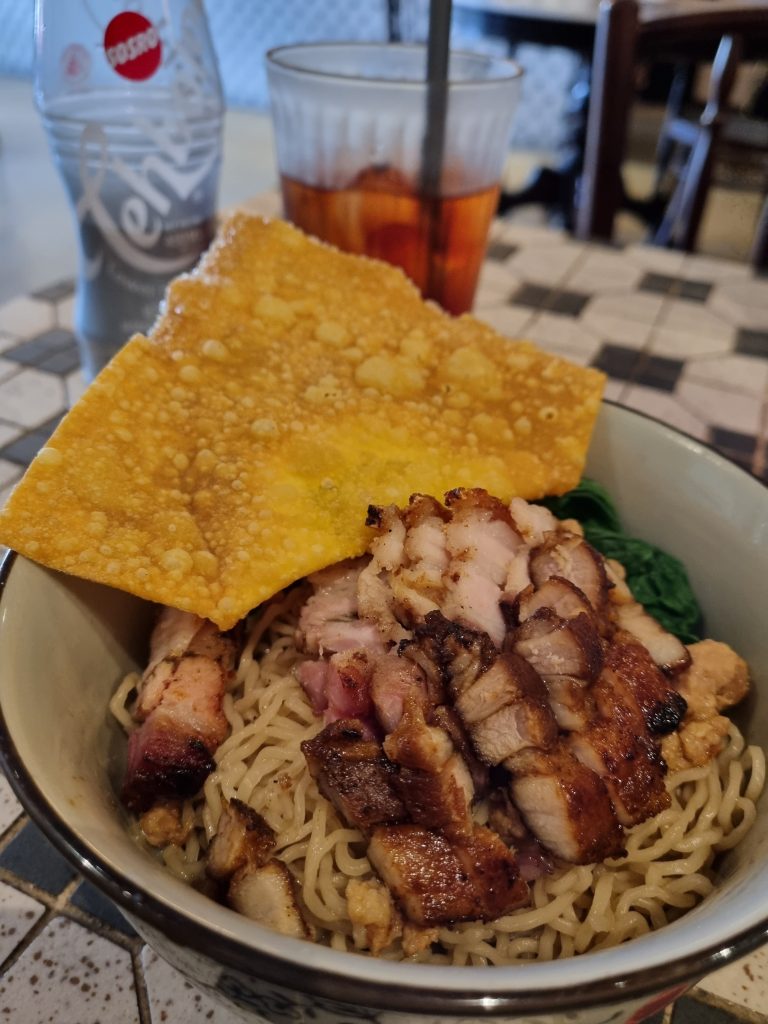 The es campur however was a bit weird. It was a mix of coconut, jackfruit, atap chee, grass jelly, and nata de coco; topped with shaved ice, coconut milk, and syrup. Sweet and cold, but slightly difficult to eat as the ice was overflowing the cup and the fruit cuttings were too long.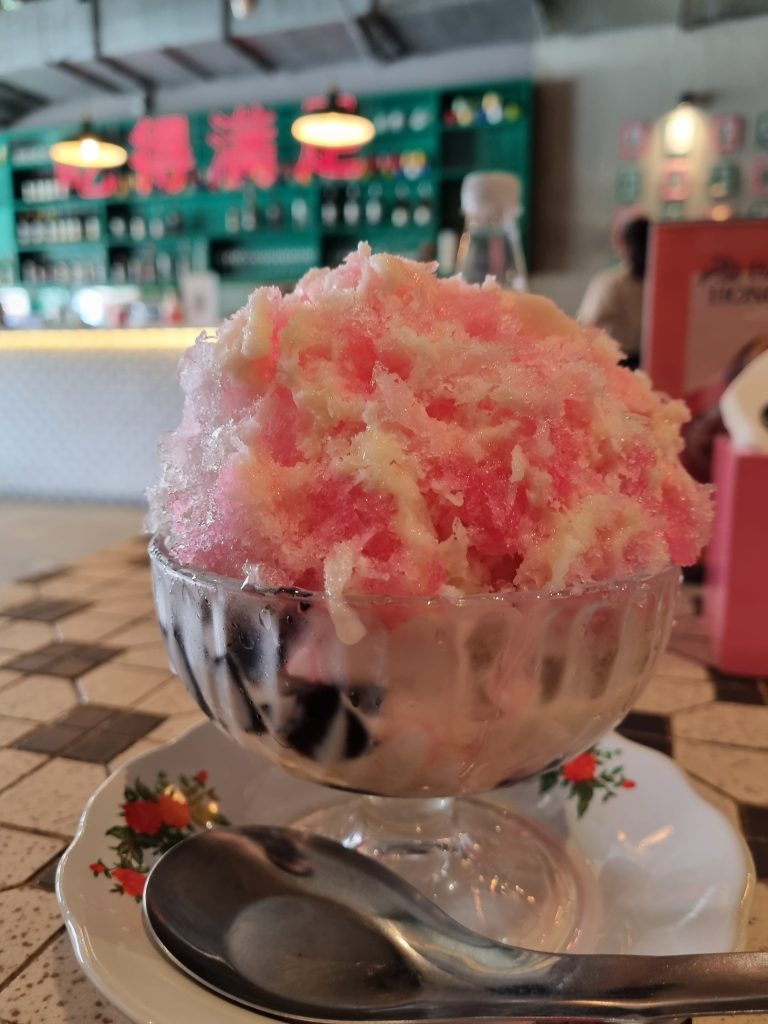 After lunch, I went to Changi Chapel & Museum. Even though I traveled from Bedok area, it still took me almost an hour to reach here. Located beside the Changi Prison complex, the museum exhibited the story of being prisoner-of-war (POW) during World War II period, when the British & local soldiers of Singapore were detained after surrendering to the Japanese force. Apparently, the whole Changi area was converted into a POW camp. The camp consisted of more than just the prison complex, it also included the several barracks in the area.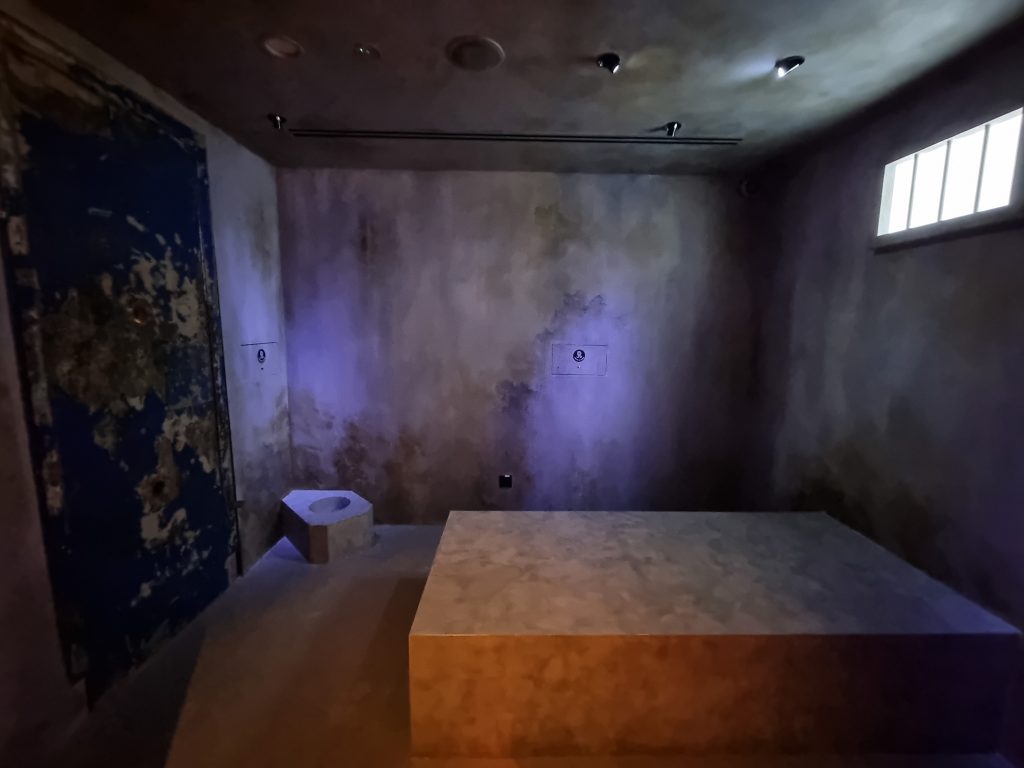 I learned that the conditions of POWs were harsh and sometimes, being sent overseas for work would mean better condition. Of course, there were instances where oversea work meant a death sentence, like for the Thai-Burma "Death Railway" project, where most of the workers there never return. Supplies shortage also meant that the POWs were allowed to do some activities to sustain themselves like farming (like growing food, raising livestock) and worksop (like making soap, toothbrush). There were also other activities like art (drawings of the conditions inside), studies (learning Malay), and faith (church service, Chirstian mural paintings).
The modern Changi Chapel was modeled after of the churches from that era. The cross displayed here is the historical artifact! I spent around 90 minutes in this museum, and it was a great learning experience. The only downside of this museum is that the location is very secluded.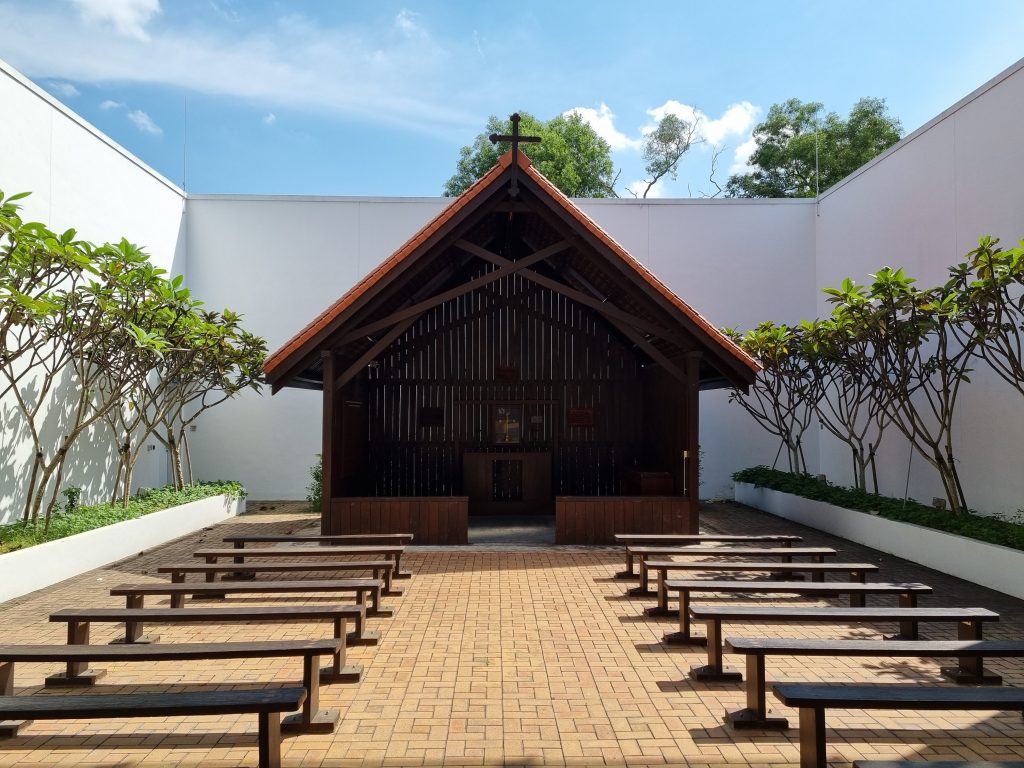 After the museum, I was wondering on whether to go to Changi Beach or to Jewel. As the day was very hot, I went to Jewel to cool down and spend the rest of the day. there. Of course, I had to get the ice cream from Birds of Paradise: sea-salt Hojicha (very nice, earthy feels, but couldn't taste the salt) and Springtime red berries (lots of berry taste, said got ginger but couldn't taste it).
After ice cream, I browsed the mall, walking round and round till dinner time. I had my dinner at Tsuta Ramen. The soup taste was very interesting: pretty salty with slight sour note, cha-shu was good, egg was really nice, noodle was good too.
I ended the day after dinner with a very long journey to the west.
Downtown
On Thursday, I only had food as the main destination and no special destination in between.
For lunch, I went to Bugis for lunch at Keisuke Ramen Tonkotsu King Four Seasons. The ramen soup was good but slightly saltier. I chose the "King" menu, where all toppings were there, and at first, it was great, but I struggled to finish it. Their service wasn't satisfactory as the server ushered me to get seated close to other customer even though there weren't any crowds, the server also cleared my bowl very quickly after I finished even though I was still sipping water and might still enjoy the free flow eggs.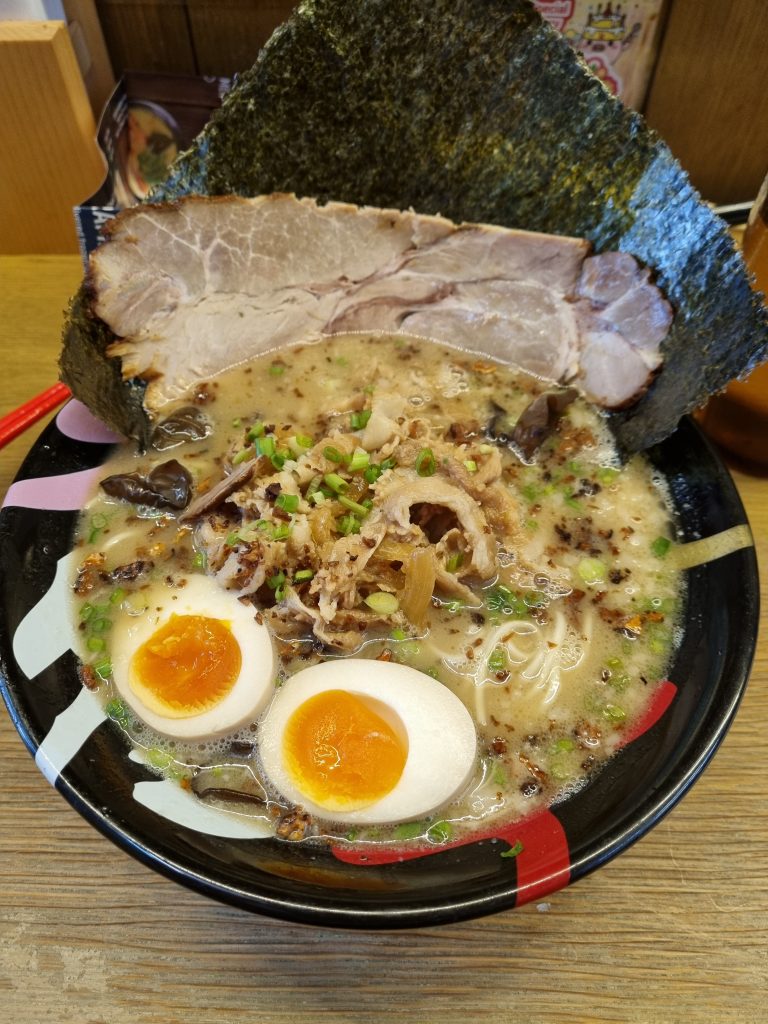 After lunch, I went to Bugis Junction to redeem my free bubble tea from I Love Taimei, which was a reward from playing Shopee Pets. I was still so full, so I didn't drink it yet
I went to Plaza Singapura next to buy ticket for a James Bond movie called "No Time to Die" at Golden Village. While waiting till movie show time, I browsed the mall while drinking my bubble tea.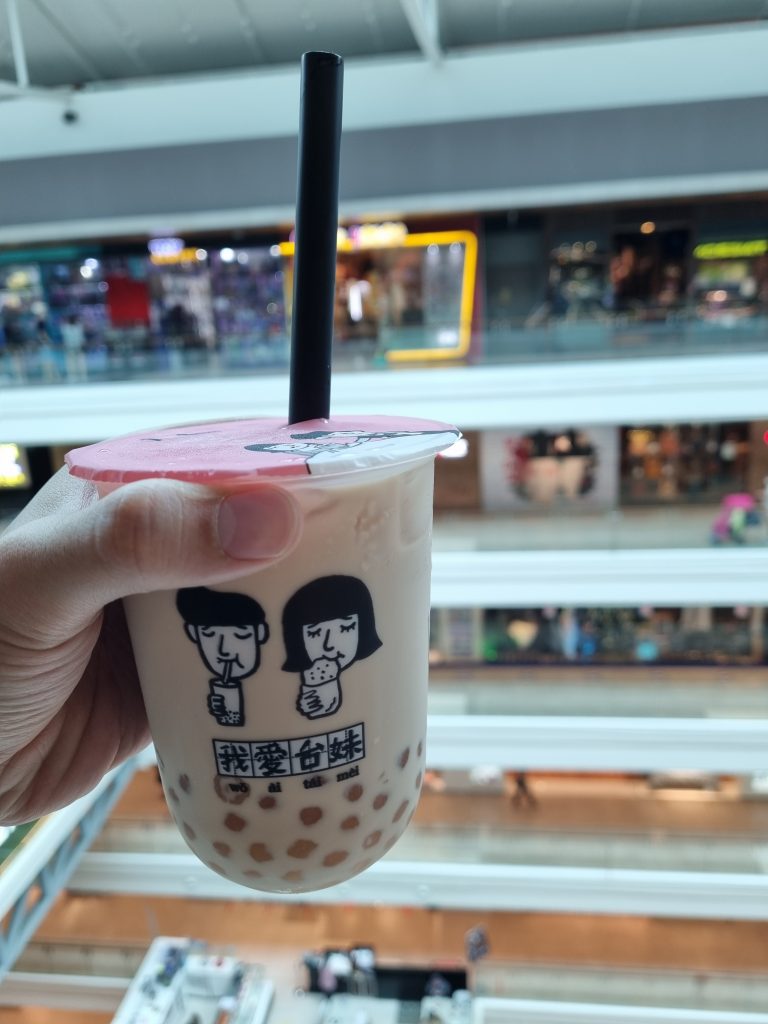 The movie was great! It was almost 3 hours long and packed with lots of actions and emotions. The audience, however, wasn't great, as there were school kids talking during the movie. If not for them, I believed that I would drop a tear or two at the movie's ending scene.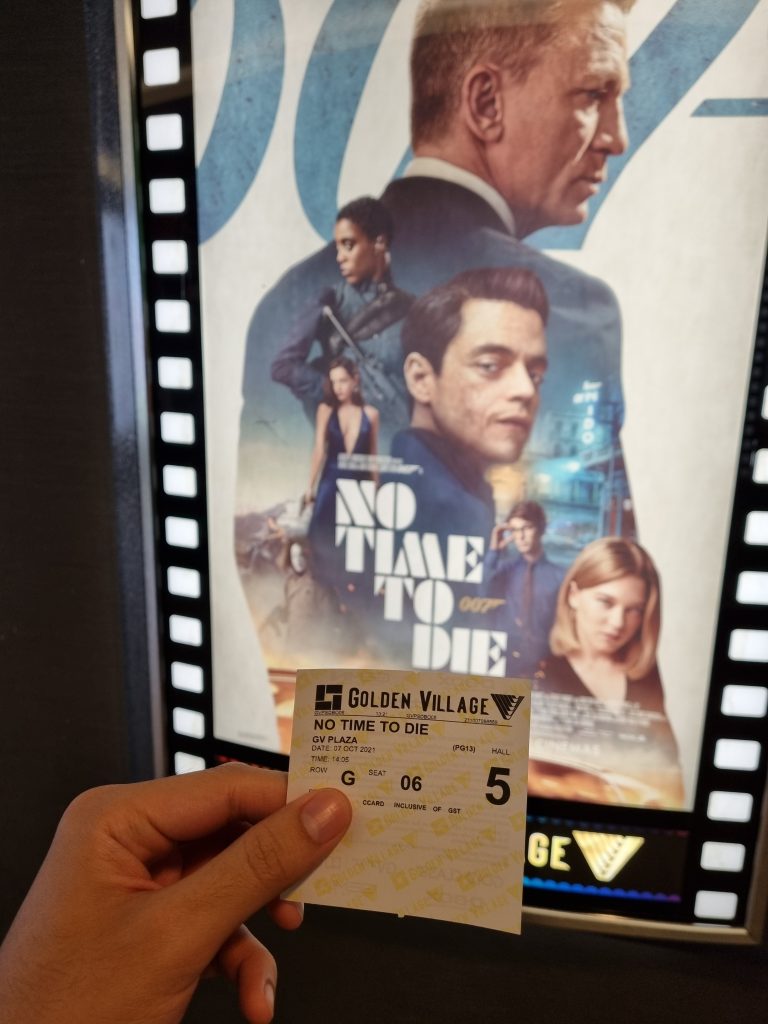 After the movie, I went out of the mall to heat myself up. I walked to Istana Park, a small green space next to Plaza Singapura and opposite The Istana. There was nothing interesting here, only a "Istana Heritage Gallery" which is temporarily closed, beside a pool & decorated arch.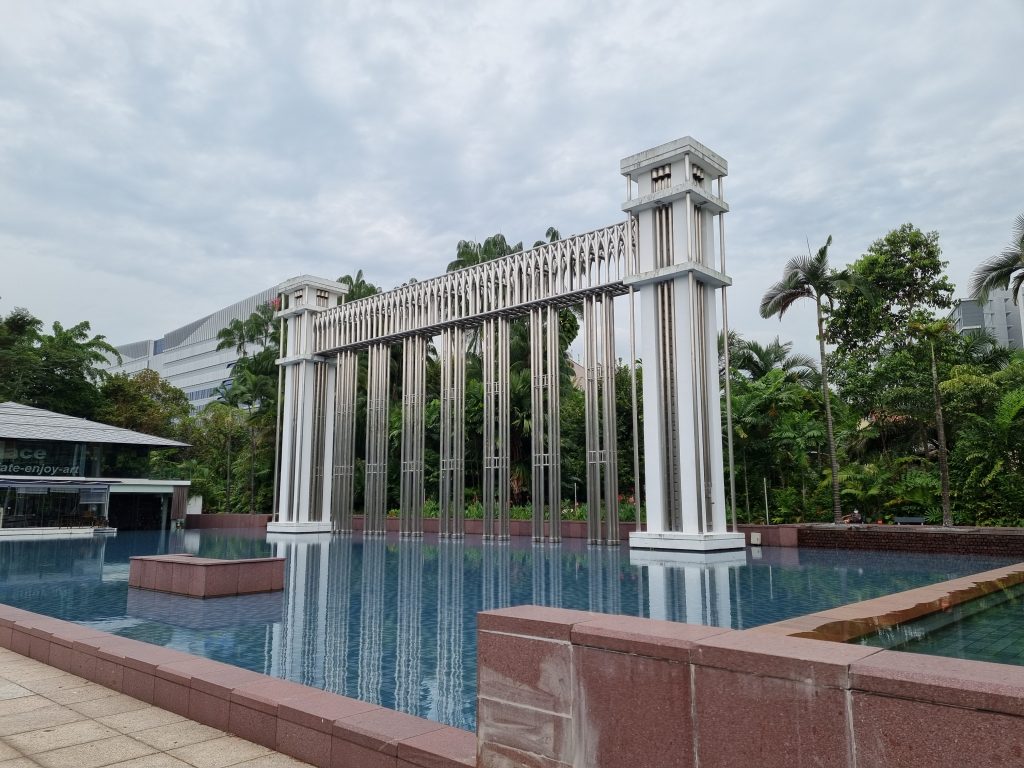 The highlight of the day was the dinner. As it was meant for celebrating my birthday, I went on to make reservation at a more atas restaurant in Chinatown. I met my friend Jing, and as we're quite early, we explored the area for a bit before going to the restaurant.
We ate at Catfish Restaurant. At some point, the head chef went out and interacted with us. The dishes were great! Even though we didn't order any carbs, we're actually pretty full. We had crispy fish skin, hamachi sashimi, grilled octopus, market fish kiev, and roasted cauliflower:
The fish skin was really normal, only the dipping sauce is slightly special.
The Hamachi sashimi was great as it was really refreshing.
The market fish kiev tasted better than normal fish & chips, but not that special to me.
The octopus was the best to me, as it has so much flavor in it.
The roasted cauliflower was also great.
After dinner, it was still early, so we walked to Apiary for dessert.
We parted ways afterwards after a good dinner & dessert.
West Coast
Friday was my birthday! I started the day early for a morning swim and breakfast nearby my house. After that, I went back home to continue rest.
For lunch, I went to a fried chicken restaurant called Birdfolks at "NEWest" mall. Apparently the mall was larger than I expected, but it contained mostly restaurants and cafes. The fried chicken was full of flavors, although the portion was slightly underwhelming. At times, could feel quite greasy too. Other than that, it was a good fried chicken.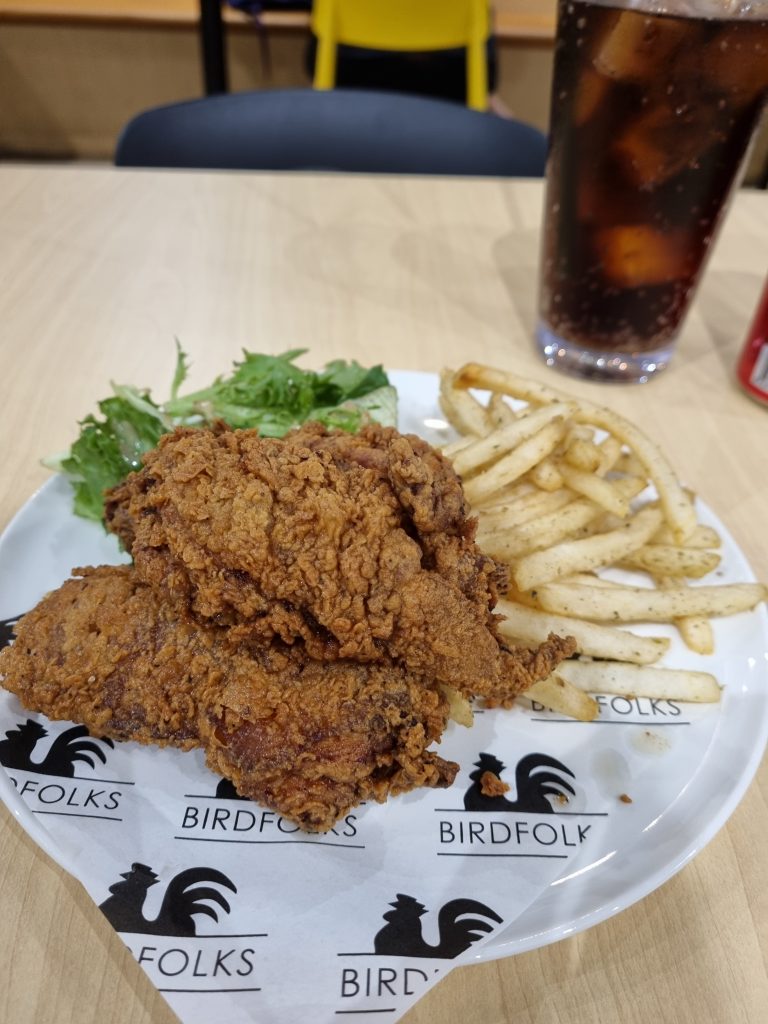 The weather so hot! Next, I went to Gillman Barracks to explore the art galleries. Apparently a lot of the galleries there weren't open for some preparation for future exhibitions. I managed to only see five in total, where I spent around 10 minutes on average on each of them. I like the candy painting exhibition the most, as the paintings looked like photographs, but they were actually oil paintings, and the depiction of plastic wrappers were really realistic: the shadows and reflections were so detailed. I felt that it showcased the plastic wrapper and glasses more than the candies itself.
I took a break at Creamier for another round of ice cream. Wow, this week I've been eating ice cream daily, no regrets though 🤣. I had a scoop of rum & raisin, and another of earl grey lavender. Both tasted really good, especially under such hot weather. The sweetness was just right and they were really fragrant.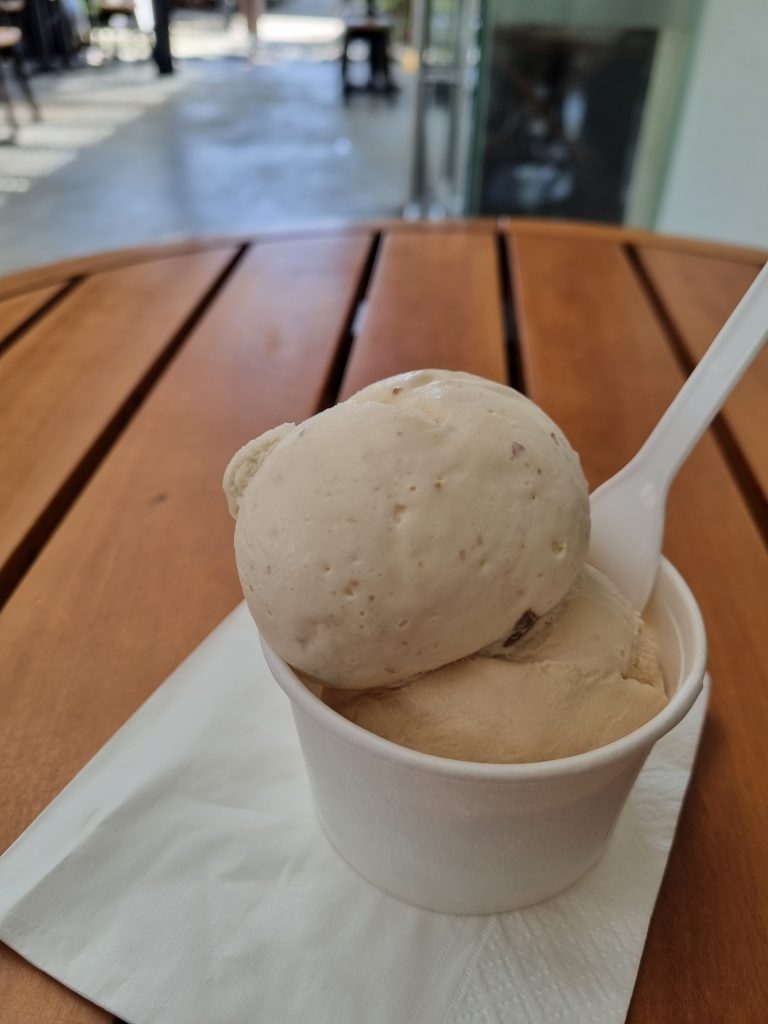 After Gillman Barracks, I walked to Labrador Nature Reserve, going through Berlayer Creek Boardwalk. It was quite crowded as it seemed like there were some kind of scavenger hunt going on among the people there, which looked like uni kids, who sought and took pictures of plants around the creek. The park was fully shaded by trees, but that also made it very humid too.
At the end of the creek, I reached edge of Labrador Park, and I took pictures of the landmarks before moving on to the forested part, where there were lots of remains of the Fort Pasir Panjang from the colonial era. I didn't really like it there since it was so quiet and seemed not very well-maintained, giving some kind of chills. The scariest thing of all here were the mosquitos. Nevertheless, I managed to take photos of the landmarks but didn't manage to read the plaques since I didn't want to spend too much time there. I went out on the other side, and realized that to go to the beach area (I was hoping to catch sunset if possible), I had to either cross the forest again, or walk along a long featureless road and I'll be back at the point that I visited before. In any case, the weather was still really hot and humid, therefore I decided to leave.
Next, I went to a mall next to the Labrador Park MRT station, Alexandra Retail Centre, and it was a really small mall. At the center of the atrium, you can have 360 degree view of all the shops there. I went to Fairprice, to slowly browse the shelf. After that, decided to go for early dinner at Tingkat Peramakan, a kind of peranakan restaurant. I ordered the set: ayam kleo for the main, nyonya chap chye and sayur masak lemak for the side dishes, lemongrass for the drink, and sago gula melaka for the dessert. It was really tasty and the spiciness kicked well. I would definitely try other dishes on other occasion.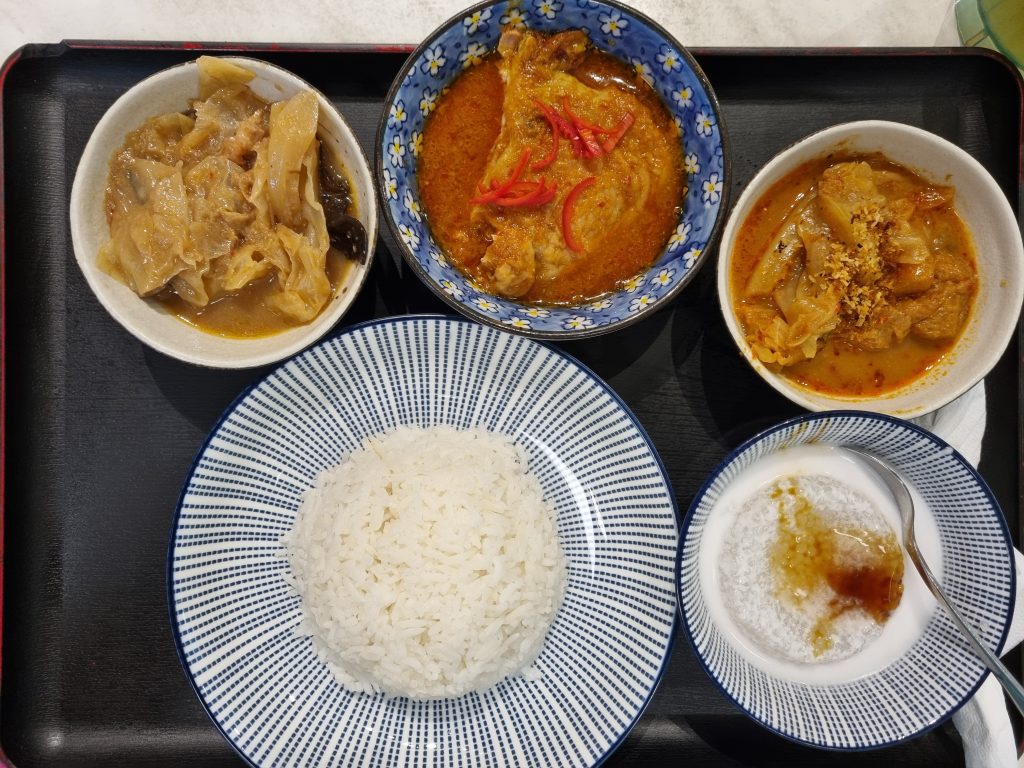 There wasn't anything else to do, so I went home and ended the day.
Conclusion
In conclusion, this was a relatively more relaxed week for clearing my annual leaves. I went to several places mainly targeting food. My favorite dish during this leave was definitely the octopus from Catfish Restaurant. Meanwhile, my favorite ice cream is from Creamier.
By framing it towards food, suddenly there are now so many places to visit. I guess this open up lots of opportunities to try out the food places around Singapore. Perhaps that would also be the theme of my next adventure? 😉