The last time I was overseas was February 2020 when the pandemic was still brewing and came back to Singapore acting like a hero by bringing in few boxes of face masks. It has been such a long time since my last travel that packing for travel felt unnatural to me.
Technically, I was going overseas, leaving Singapore for 4 nights in international waters. The feeling while onboard cruise is like being on another world, where you are served well and felt full all the time. While the common name of this kind of trip is "cruise to nowhere", to many of us, the cruise itself is the destination.
I embarked on 30 September 2021 and returned back to Singapore on 4 October 2021.
Day 1: Embark
The first day started at Marina Bay Cruise Center, which is in a walking distance from Marina South Pier MRT station. When I arrived, it was raining but the walkway was all sheltered. At the entrance, we were asked if we've had taken the mandatory pre-departure antigen rapid test (ART). If not, we'll be ushered to the testing site upstairs and apparently it took quite some time to get back the test result. It is claimed that we'll get an SMS within an hour after the swab, but apparently my SMS never came and it was much faster to keep refreshing our TraceTogether app as the test result was reflected there too. In the end, I arrived at the cruise center around half an hour earlier than the booked timing (3:30 pm), but when we finished this mandatory testing, I'm already 30 minutes late. Not to worry, I met up with my friends and we entered the terminal together.
Inside the terminal, things happened quickly. We're issued purple bands to indicate that we're fully vaccinated and therefore eligible to go for the activities & dining halls. After that, we went through security checkpoint where they will stop you to bring prohibited items (e.g. steam iron, extension cord). We were then issued a "Tracelet" band for contact tracing. After we cleared immigration, we went straight onboard the cruise.
My first impression of the cruise interior is that is felt like a mall. I felt quite disoriented, but my friend managed to direct ourselves to our rooms and we met our "SeaPass" cards there. These cards are for our room key, activities, and even for onboard expense. We settled in our rooms around 4:30 pm.
The first thing to do after settling down is to connect to the cruise Wi-Fi and reserve the shows as they are really popular and have limited seating.
After early shower, we went for our first dinner at the main dining hall.
For dinner, I had a shrimp cocktail and crab soup (apparently they used crabstick) for appetizer, grilled fish and then pork chop for entree, and creme brulee for dessert.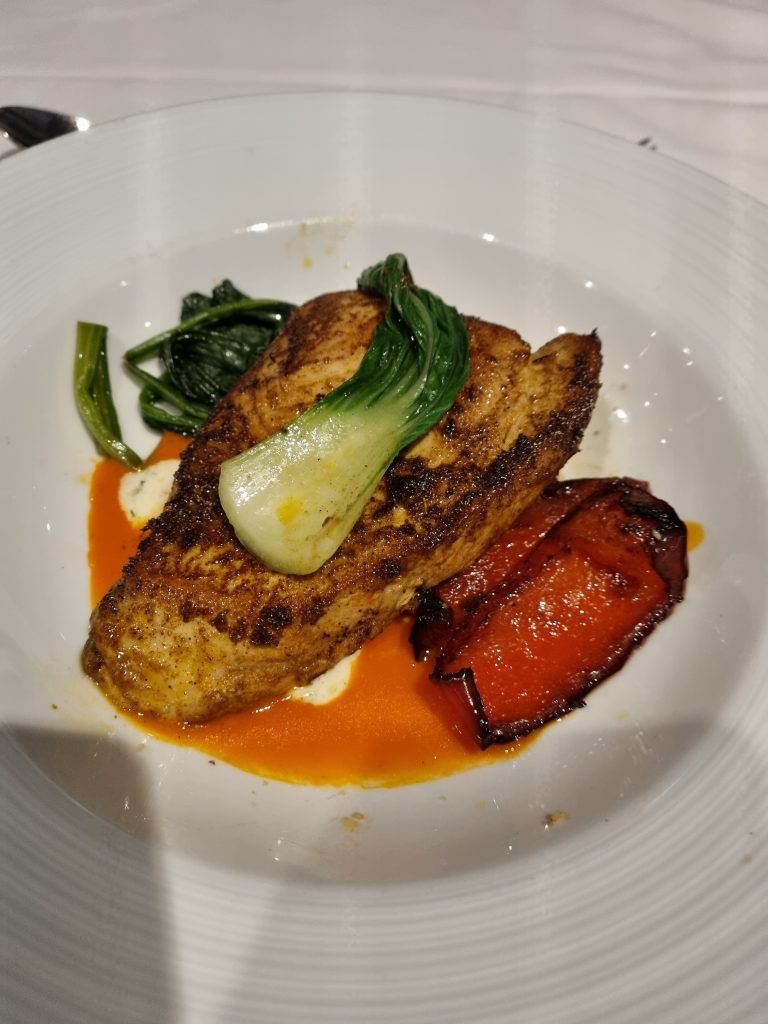 The night was packed with activities till midnight! We did bumper car first before the night shows started.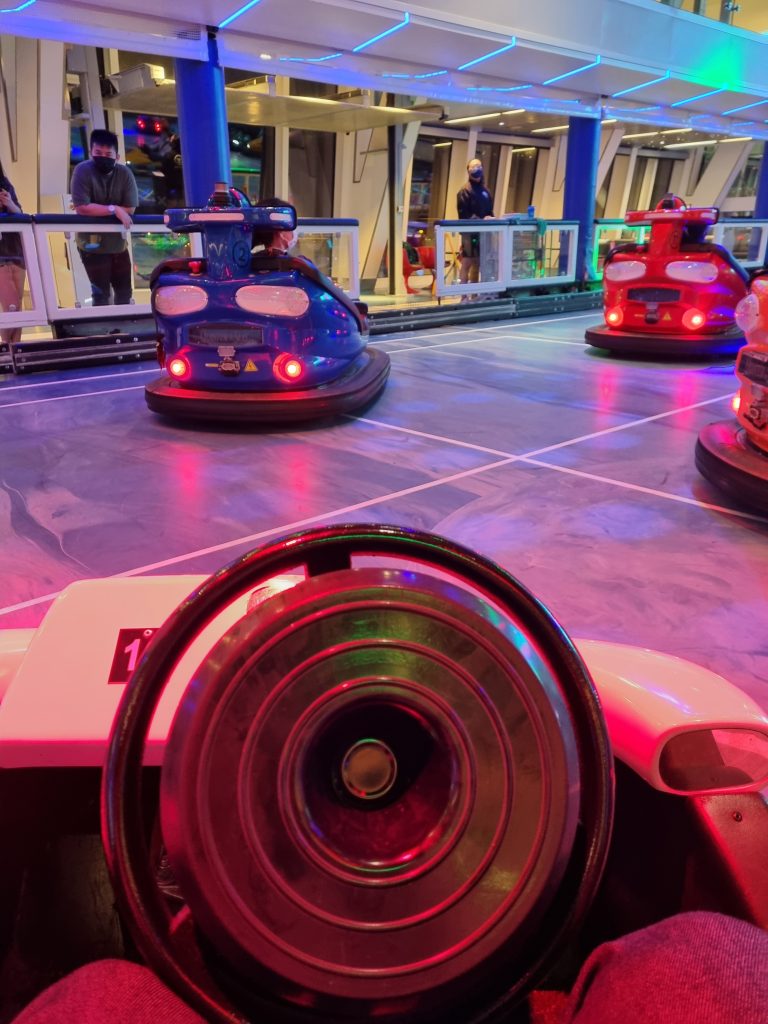 The first show was a juggling show by James Bustar, but it seemed like more of a stand-up comedy with some juggling. Yes the juggling is fun, but the jokes were really fun. It was amazing that one can multi-task juggling and making jokes.
Before the next show, we went for snack at pizza place, it was pretty good for me.
The next show was a magic show by John Taylor. I've seen such tricks from TV but never seen it live. It was entertaining if you shut down your mind to stop thinking on how such tricks were made.
The final show of the night was live band performance from a group called "Kinetic Band". Citing the rules, the singer could only appear backstage and live-stream to the audience via screen. Their performance was good! The even took requests from the audience and Yellow was one of them!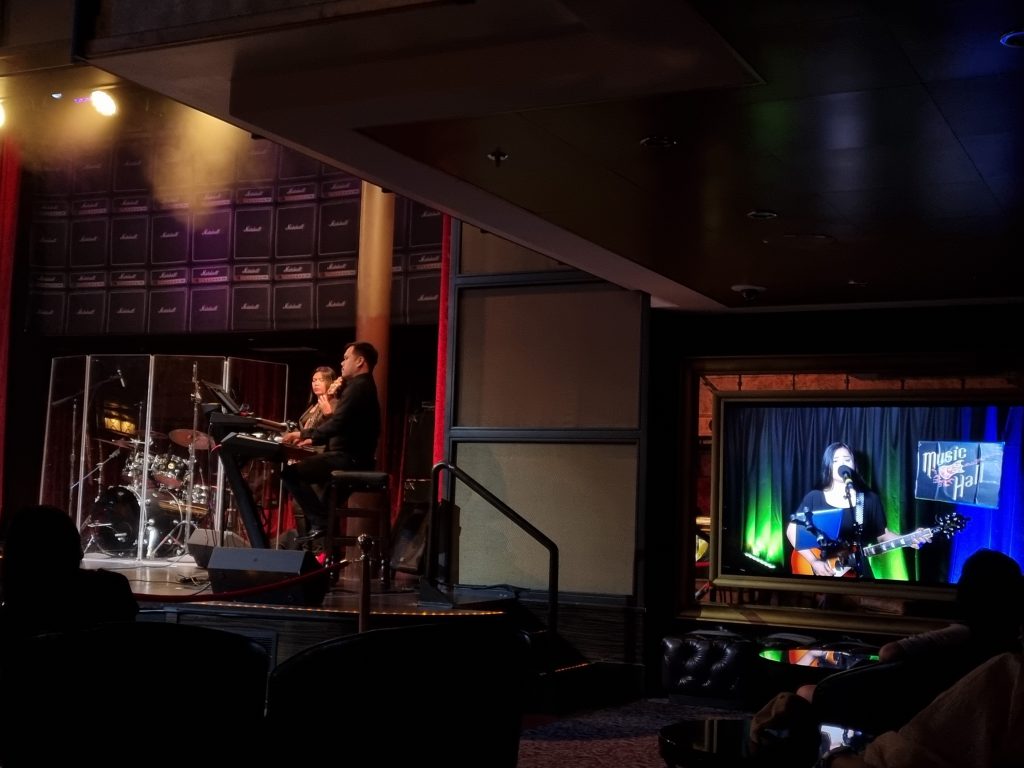 Day 2: Explore
The second day is our first full day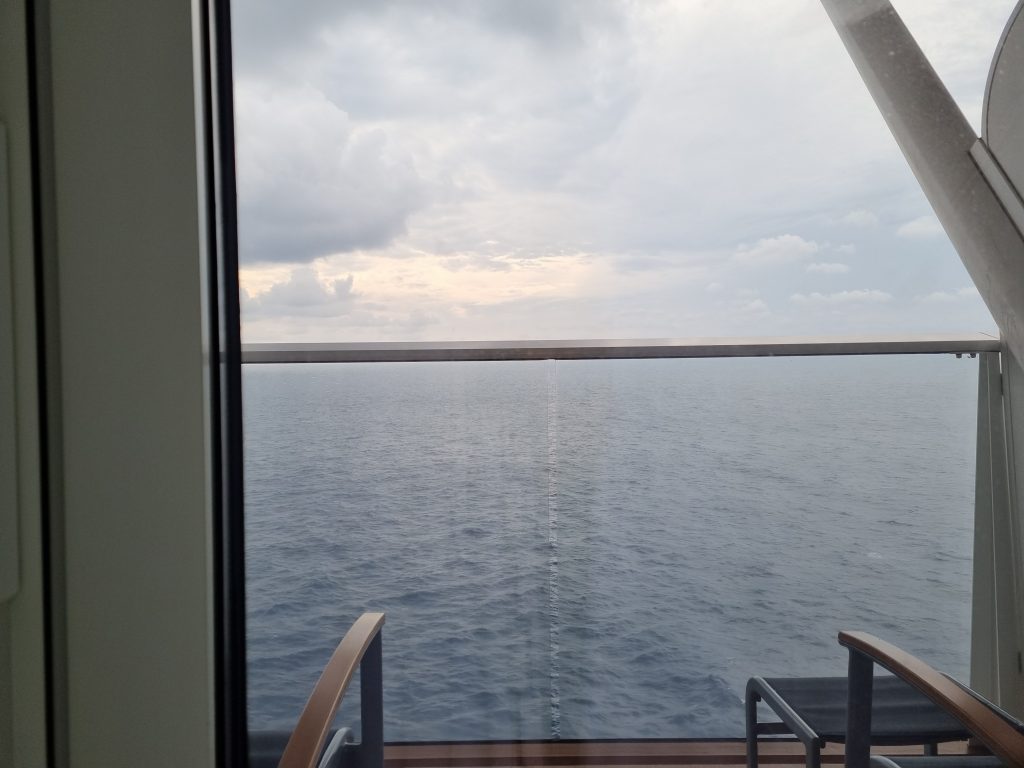 We had breakfast at Windjammer where the meal is served like hotel breakfast buffet. I took the ingredients to resemble full English breakfast and also drink English breakfast tea. I had omelette from the station too, but it looked sad and not fluffy.
We went for our first activity of the day: napkin folding. We folded quite interesting shapes: pyramid, candle, crown, holster, and rose. Personally I liked the "crown" shape the most and have been practicing the steps for a few times at the dining room when bored.
We went for dance class too. It was supposed to be a K-pop dance class, but the instructor didn't seem to get that memo, and instead taught us some country dance instead. It was pretty difficult to follow too, since I was standing at the side in front and couldn't see the instructor very well.
For lunch, I had duck salad for appetizer, "korean" chicken (which is apparently chicken cutlet with some kimchi) for the entree, and banana split for dessert.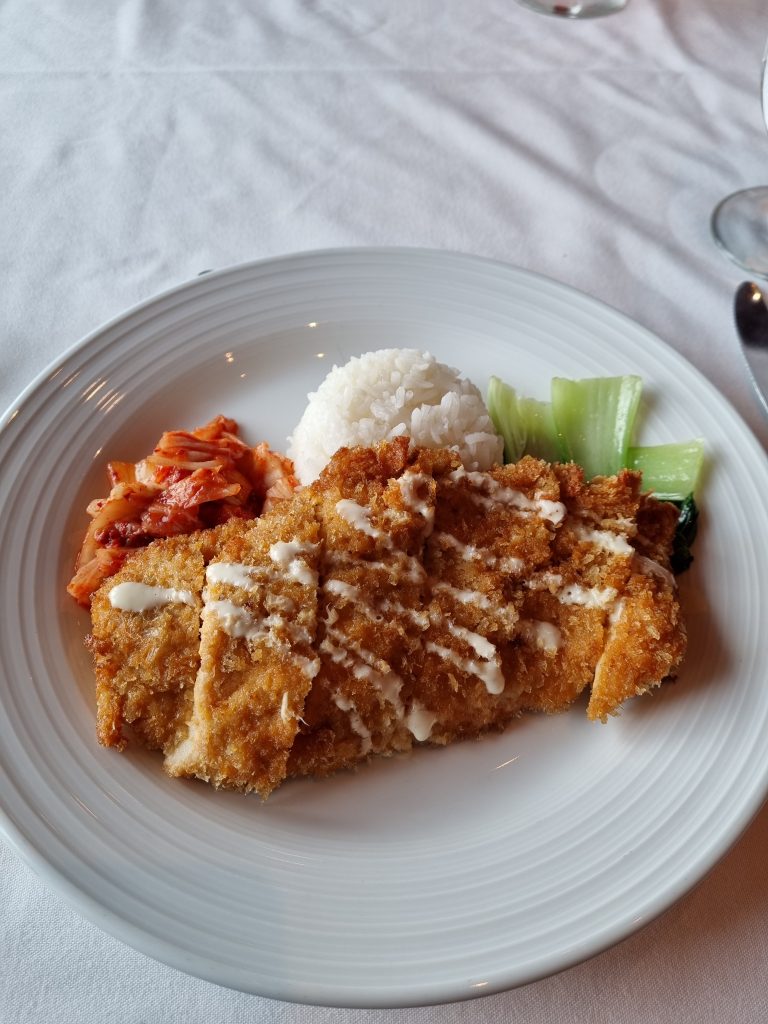 After a nice fine lunch, we went to guest services after rediscovering that boogie boarding session has been booked out. We learned that boogie boarding sessions for the final day can be booked starting at 9 am the following day.
We also tried casino, but I only watched my friend play. I was impressed that not much talking involved, and each round was quite fast. If the minimum bet were $5, I would try one or two game but since the minimum is $15 and I didn't want to lose that much, I didn't try at all.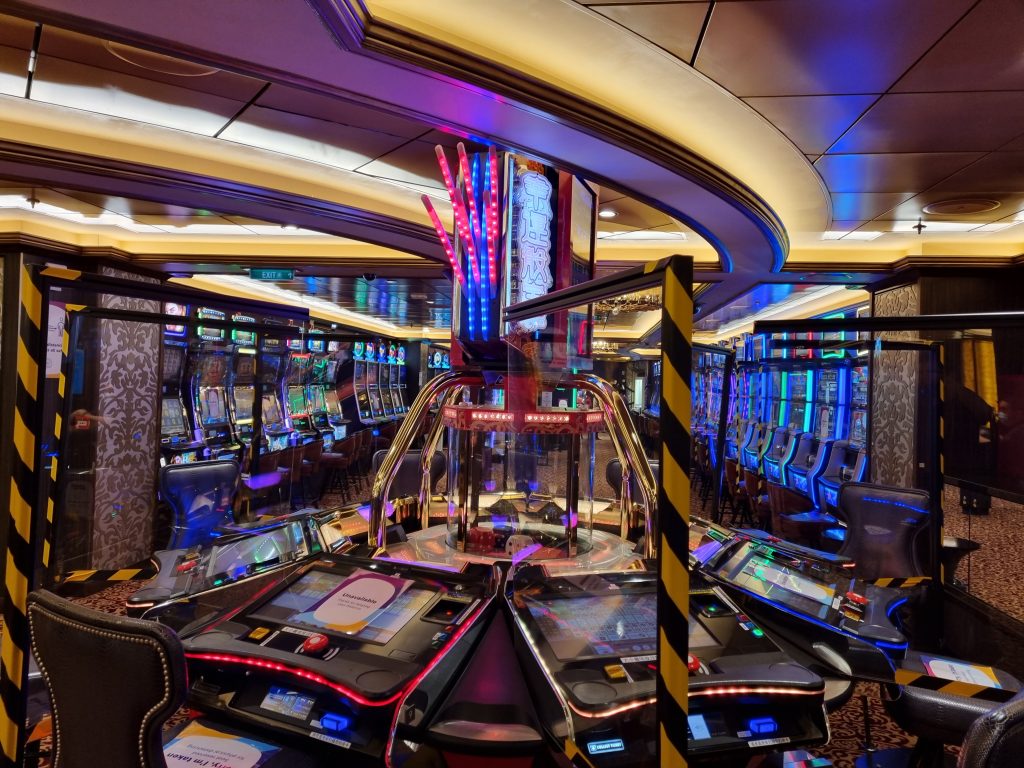 We tried the fancy indoor pool and hot tubs at Solarium, where kids are not allowed to enter. I didn't enjoy the pool as the water was pretty cold to me. The hot tubs were nice, and we're able to view the sea while inside. Unfortunately it was also really popular, so the time spent inside were limited to 10 minutes and we had to queue for a while too.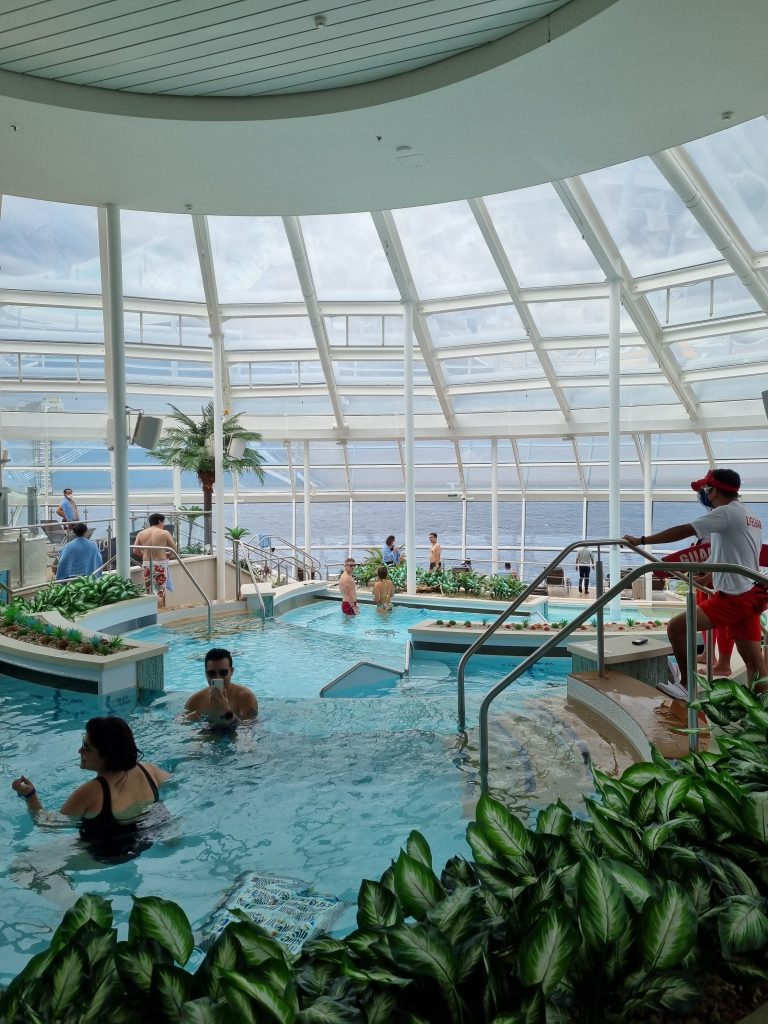 After that, we went for the outdoor pool, hoping that it would be nicer. The water was slightly warmer, but the water was quite opaque when seen while diving. The pool itself was small, couldn't get myself to the cardio rhythm. I only spent around 15 minutes here.
After the water activities, we went to register for a nations scavenger hunt, where we're tasked with finding crews of different nationalities. Our first findings were at the Seaplex where we talked to the sport crews for booking Xbox & foosball table.
There was a hotdog station around the area and we tried it. It was a decent snack.
Before dinner, we went to attend a classical piano performance. Even though the performer was good and I did recognize some pieces (like Beethoven's "Moonlight" Sonata and Chopin's Nocturnes, Op. 9), it made lots of us so sleepy.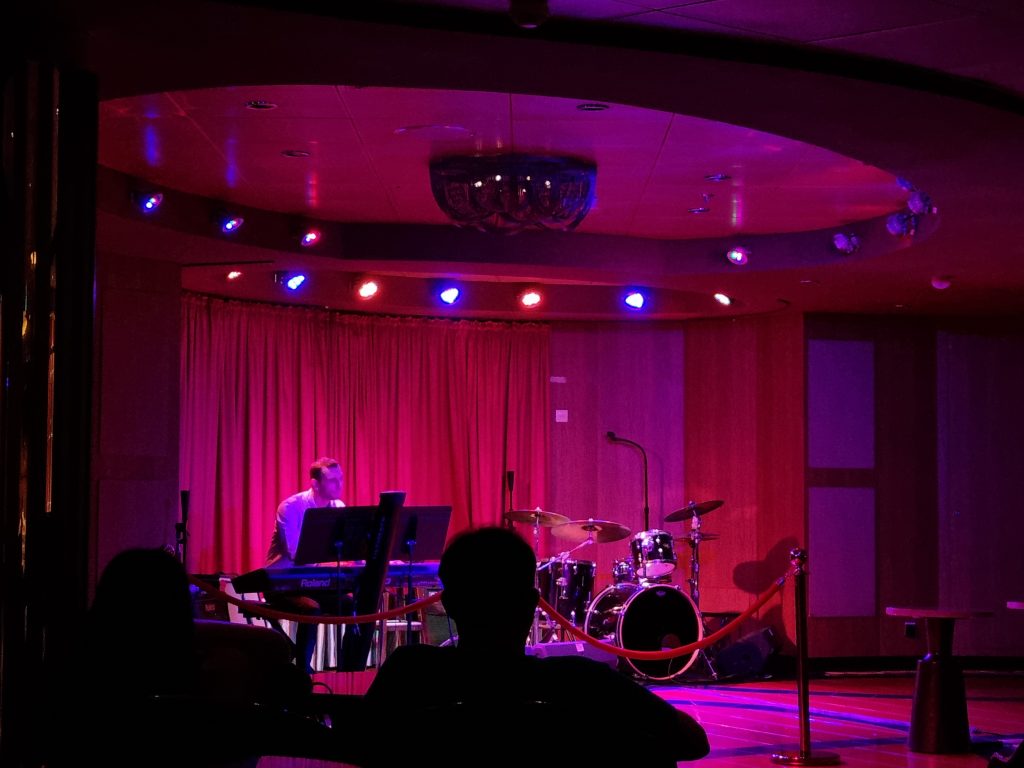 Dinner was great. I had a salmon dish for appetizer, chicken cordon bleu as my entree, and tiramisu for dessert.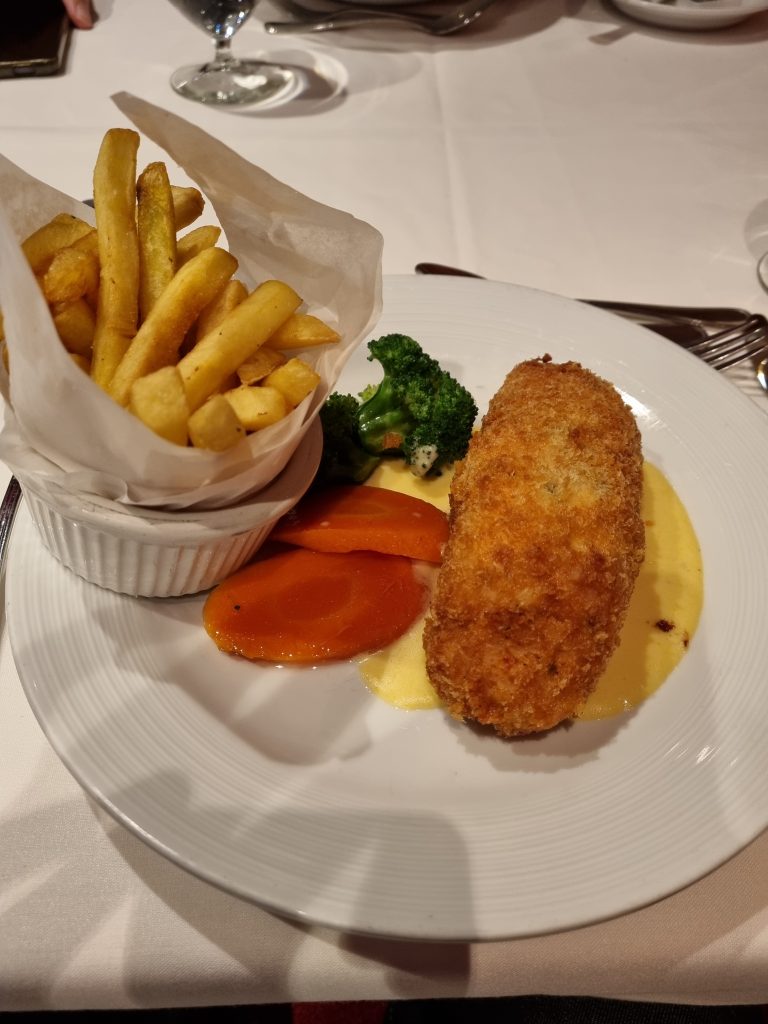 The night was spent on the Music Hall: watched a jazz quartet performing, a game show of Family Feud, and Kinetic band again.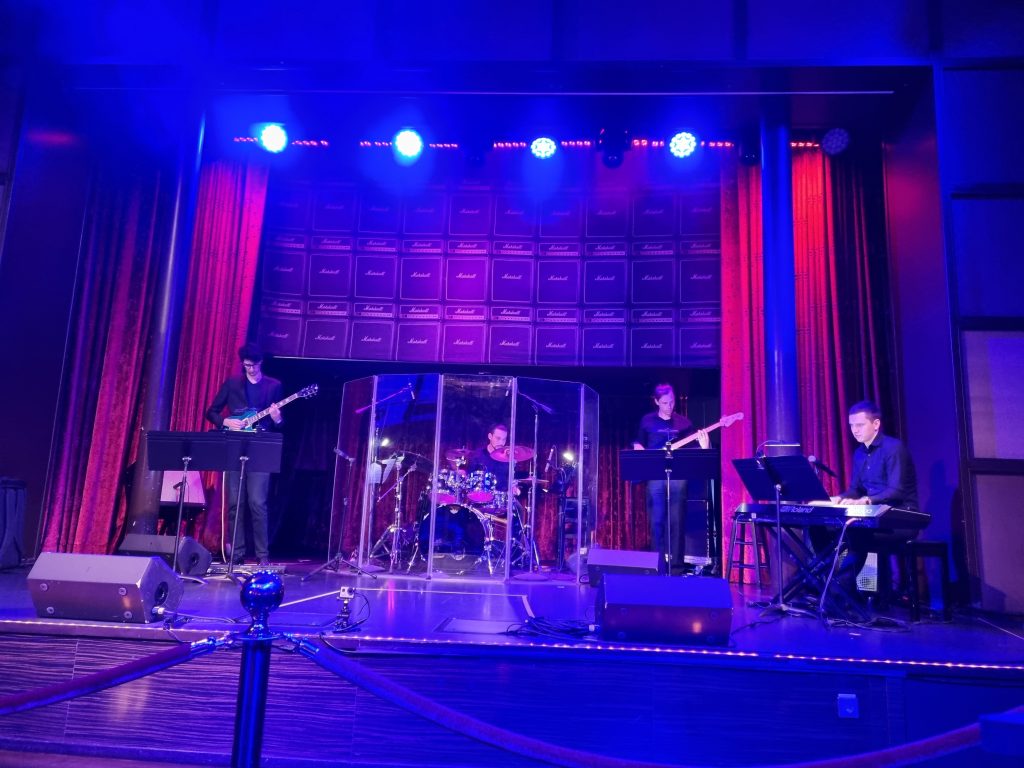 Day 3: Relax
It was quite a free day. Woke up late so that we could book boogie boarding on time.
We went for main dining hall for breakfast. I have donut, fruit plate, and eggs benedict. They also served lots of water (water, juice, tea). So much upgrade from breakfast at Windjammer.
As we don't have anything planned for the day we walked around the ship and take pictures.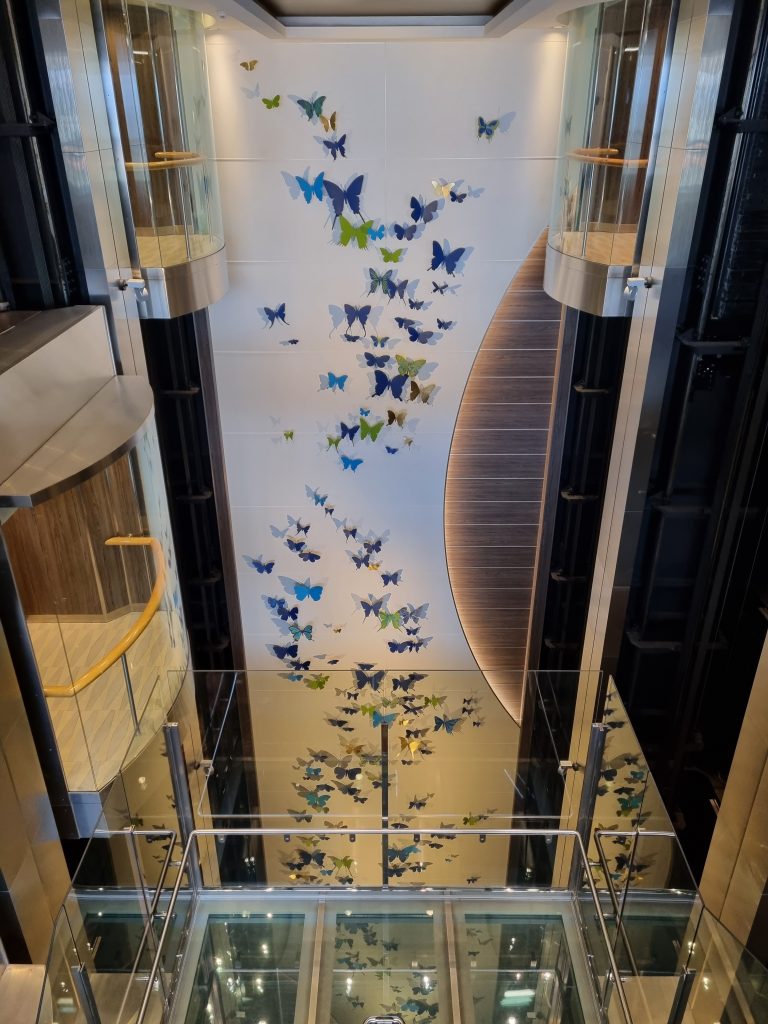 For lunch, I had salmon dish for appetizer, cod for entree, and key lime pie & ice cream for dessert.
The afternoon was spent on the balcony, enjoying the view, short nap, and then with watching Soul.
For dinner, I had yet another salmon dish for appetizer, fish & chips for entree (the chips were sad though… it was soggy; and I ordered another set of fish & chips without chips). I forgot the name of the dessert but I added another scoop of ice cream.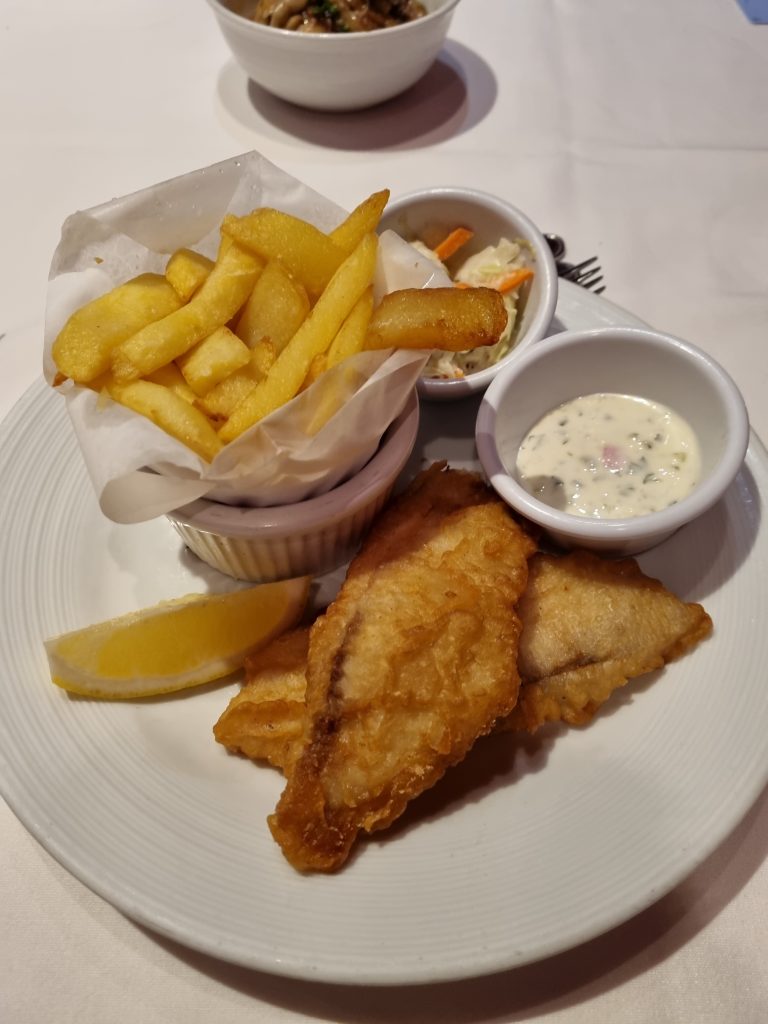 The night was quite packed. First, we went to Bionic Bar where robotic arms were serving as bartenders. Interesting as the bar is open for a very short time each night. Definitely very interesting to watch the robots perform the drink mixing acrobats, but I felt that it was unnecessary and still needed human intervention (I saw the servers went behind and pressed some buttons when the robot failed to send out the drinks).
Next we went for a violin and "Starwater" performance. It started with a group of men and women walking around the stage like a fashion show, and then at random times, there were "strike the pose" cues where the group strike in different poses. Quite odd and fun at the same time. The second half of the performance was basically a violinist giving a solo performance over some pop songs. It was a great performance.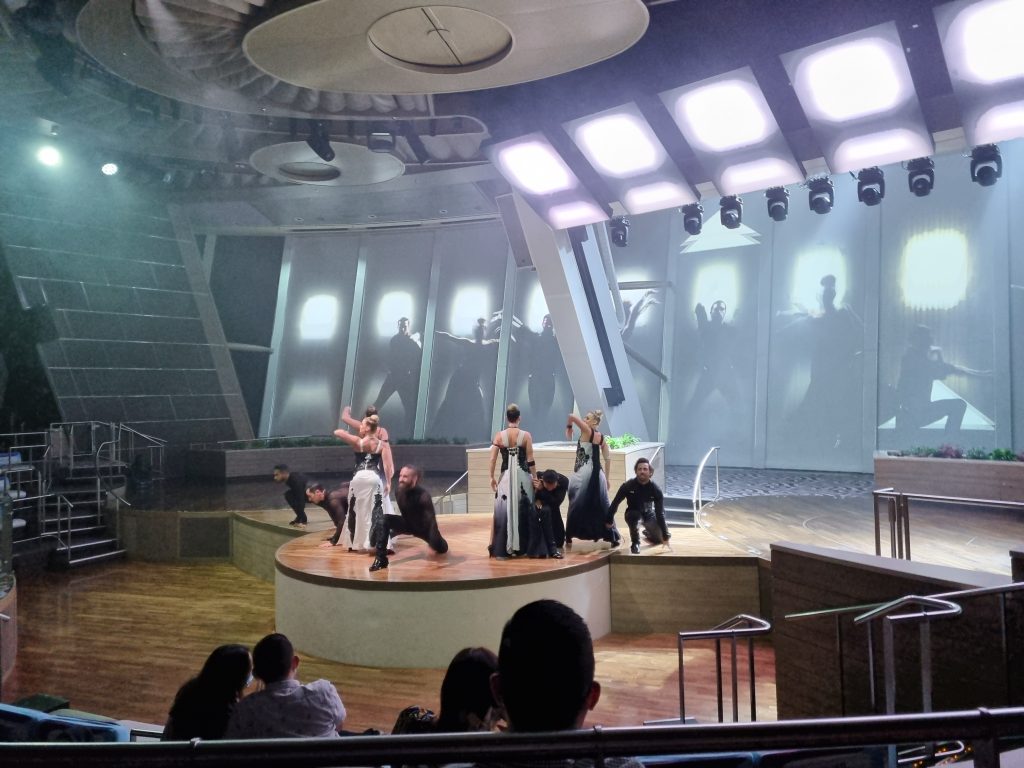 The night ended with a special acrobatic show. This show was unplanned, since the booking we had was for Sequins & Feathers show, but it was cancelled for the night for some reasons. Nevertheless, the acrobatic show was really awesome. Great combination of dance, acrobats, and humor.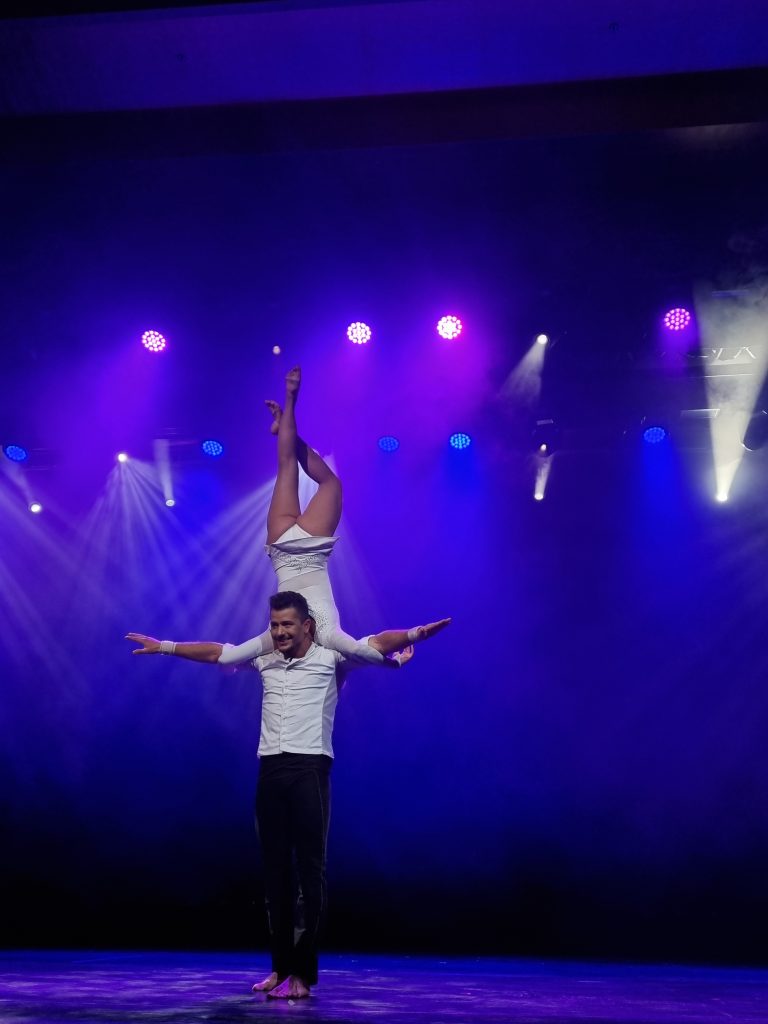 Day 4: Chiong
This was our final full day, and we had lots of thing planned for the day. My roommate woke up at 0630 for a run and attempt to see sunrise, but I passed the opportunity as I needed more sleep. After I woke up much later, we went for breakfast at main dining hall.
Our first activity was towel folding. The three sizes of towels (body, face, and hand) were used in folding it into "pig" and "bear" shapes.
Our next activity is at the SeaPlex. We played Xbox for 30 minutes, but we used up the first 10 minutes figuring out how to use the console and deciding which game to play; we spent the rest of the time playing on a fighting game. The next half an hour was for foosball which was really fun.
Lunch was here, and I ate corn cake and mozzarella sticks as appetizer, catfish as main, and banana split & fruit cup as dessert.
I headed back to room for a short nap before boogie boarding. The queue was long even after we reserved our spots. The two minute spent inside was really fun. I learned to control how to move forward & backward, but didn't know how to move left & right at all.
We went back to our rooms, showered, relaxed, and then walked around the ship. We found out a nice outdoor spot accessible only from Solarium, sort of like the "ear" of the ship and the view was really great. The seas were really calm too.
Our final dinner was really great. The service was the best. Shared calamari & Thai green salad for appetizer, shared portobello for main & had duck a l'orange for myself, and shortcake for dessert.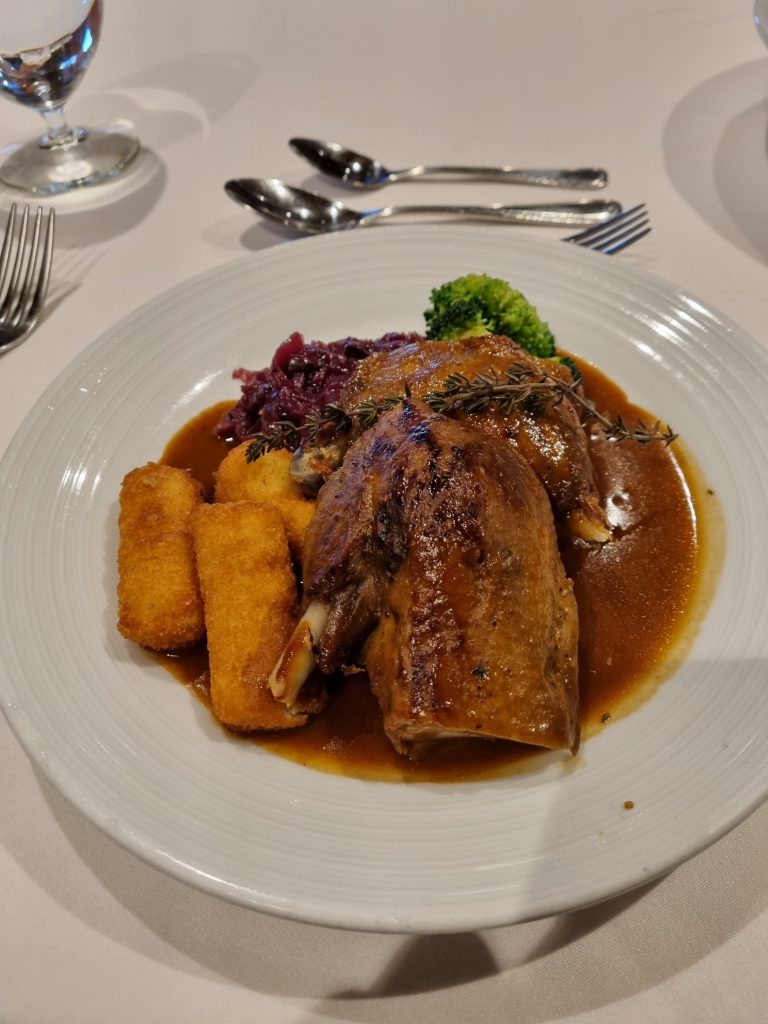 After dinner, we went to Sequins & Feathers show. The performers sung really well while dressing in very glamorous costumes. It was amazing.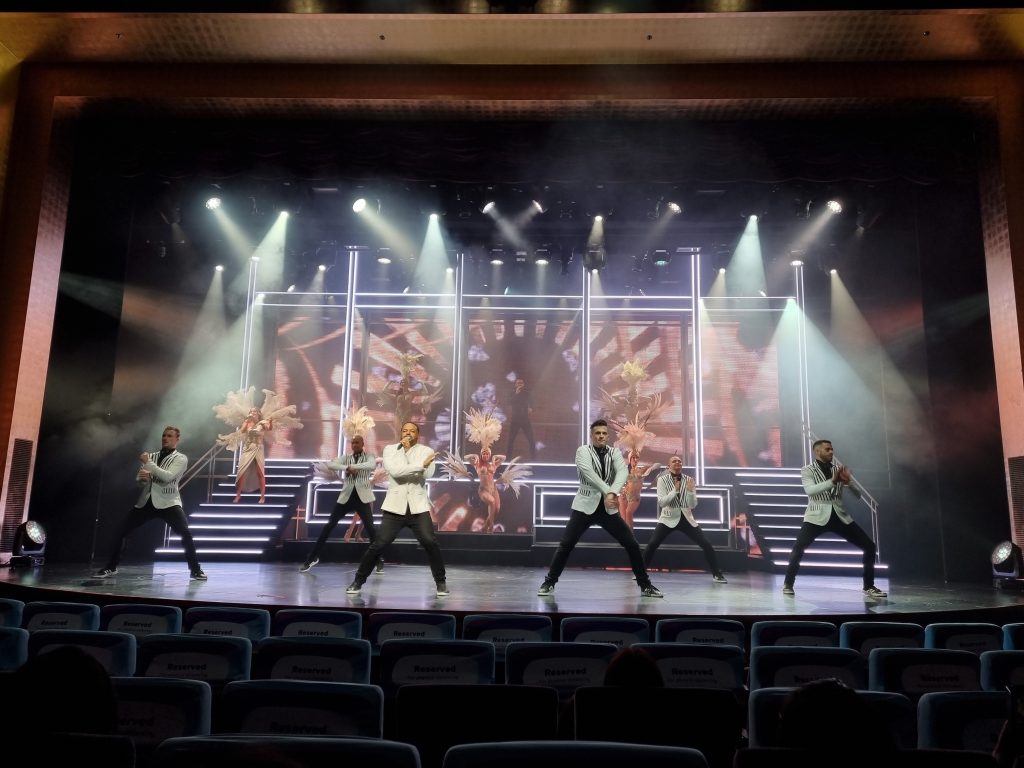 The rest of the night were spent on the music Hall, where we watched one final performance of the Jazz quartet, with extra guest performer which played vibraphone, and two sets of Kinetic band performance.
Day 5: Goodbye
Day 5 is disembarkation day. There were no more activities on this day, except for the final breakfast, where the restaurant will stop serving on 0830.
We woke up early and I realized that the ship was already docked. We went to the main dining hall at 7. I had a much happier omelette dish accompanied by a soft croissant.
We went back to our rooms at 0815, hung around balcony till we're called to disembark at 9. This trip has officially ended.
Conclusion
I had so much fun while in this trip. I truly enjoyed the various activities. My favorite part of the trip was the meals, especially the ice cream. For the activities, I liked the boogie boarding the most, and would try it again if I had the chance.
For the price paid, even if I were to go only for the accommodation and food (i.e. skipping all the activities and shows), I would still feel that I got the full value. In a way, this was much better than staycation in hotels, as they usually didn't cover meals & activities.
This trip took escaping from reality to another level. We didn't need to worry about whatever things that happened in the main land. We also constantly had access to food and were served really well.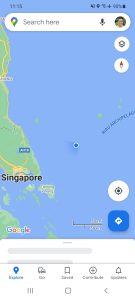 It was definitely a good experience to go nowhere. If I have another chance in the future, I will probably go for it again.