Another week on leave, another opportunity to explore places in Singapore. Although as border reopens, this may be the final week-long episode for some time. Initially I structured my plans to be: visit a place for lunch, explore the surroundings, go back home and play game. However, plans changed along the way and that's fine too.
Monday, 23 May
My initial plan was to visit Beach Road Scissor Cut Curry Rice (for lunch), Antea Social (cafe), Monarch & Milkweed Gelato (dessert), and Malay Heritage Centre (museum). However, I didn't do my due diligence and only realize that 3 out of 4 are closed on Mondays.
Scissor Cut Curry Rice was a pretty normal mixed rice with some unique sauce. Although the sauce was nice, I didn't think that it was that exceptional to justify the long queue.
I realized that Antea Social was closed only when I was already at their doorstep. I checked my next destination (ice cream place called "Monarch & Milkweed Gelato) and also that they're closed too. However there's a substitute nearby: Inside Scoop.
Inside Scoop has a very Insta-worthy environment. Still, I was there for ice cream. I tried their cempedak and mint choco chip. Cempedak flavor was very unique and it was nice!
I managed to walk to Malay Heritage Centre only to realize again that they're closed on Mondays. I explored the surrounding area (Haji Lane) but the weather was too hot for me to enjoy exploring.
I decided to leave the place to Orchard area to hide in air-conditioned buildings. I went to buy ticket for a Detective Conan movie, but I didn't realize that it wasn't the new annual Detective Conan movie ("The Bride of Halloween"). It turned out to be a 90-minute compilation of anime episodes ("Love Story at Police Headquarters, Wedding Eve") that acts as the background stories to that new movie, which hasn't been released for general public in Singapore yet. Slightly disappointing, since I've already knew those background stories as I've read the manga.
After movies, I went to browse the shops around the area till dinner time. I had dinner at Tenya Tendon. My impression was that at their price point, they were pretty good! One amusing thing here was that they operate robots server to deliver food to customer, but then human server was still being deployed to carry the food from the robot to the table.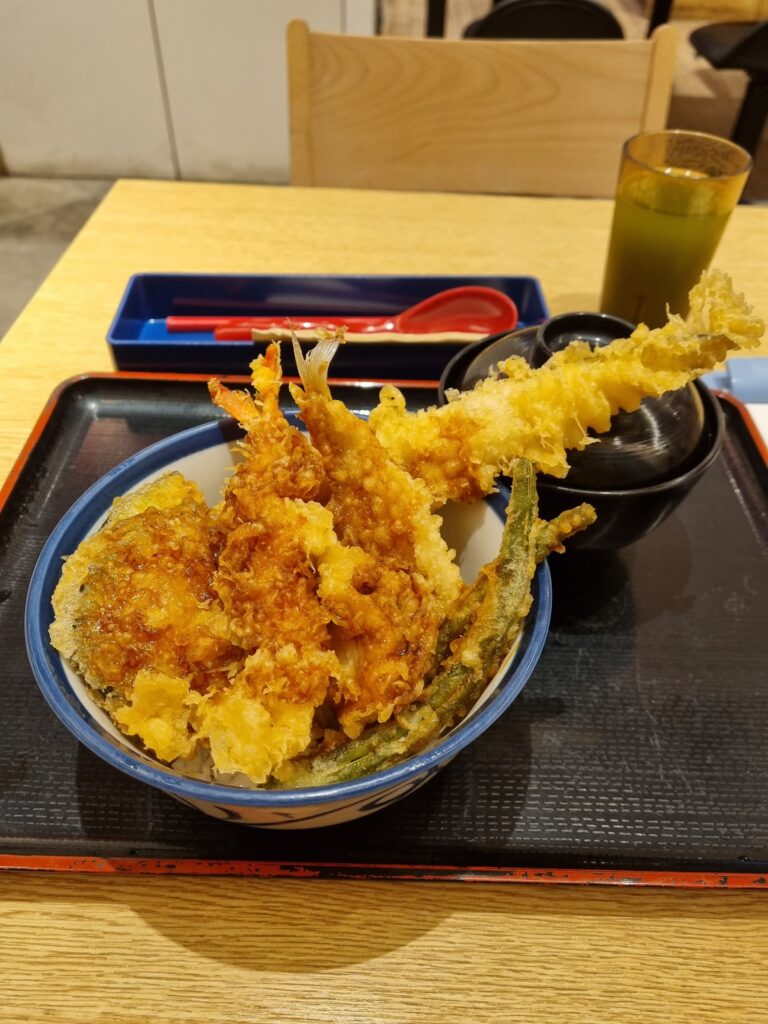 Tuesday, 24 May
The plan was to go hiking with a friend, who decided to take leave and tagged along with me. However, her mission failed successfully as she only managed to wake up when I almost reached our meetup point. We decided to meet later for lunch and I went ahead to go for hiking myself.
I reached Macritchie Reservoir Park around 9 am. My main goal here was to reach TreeTop Walk as fast as I could, that's why I decided to go for the shorter anti-clockwise route.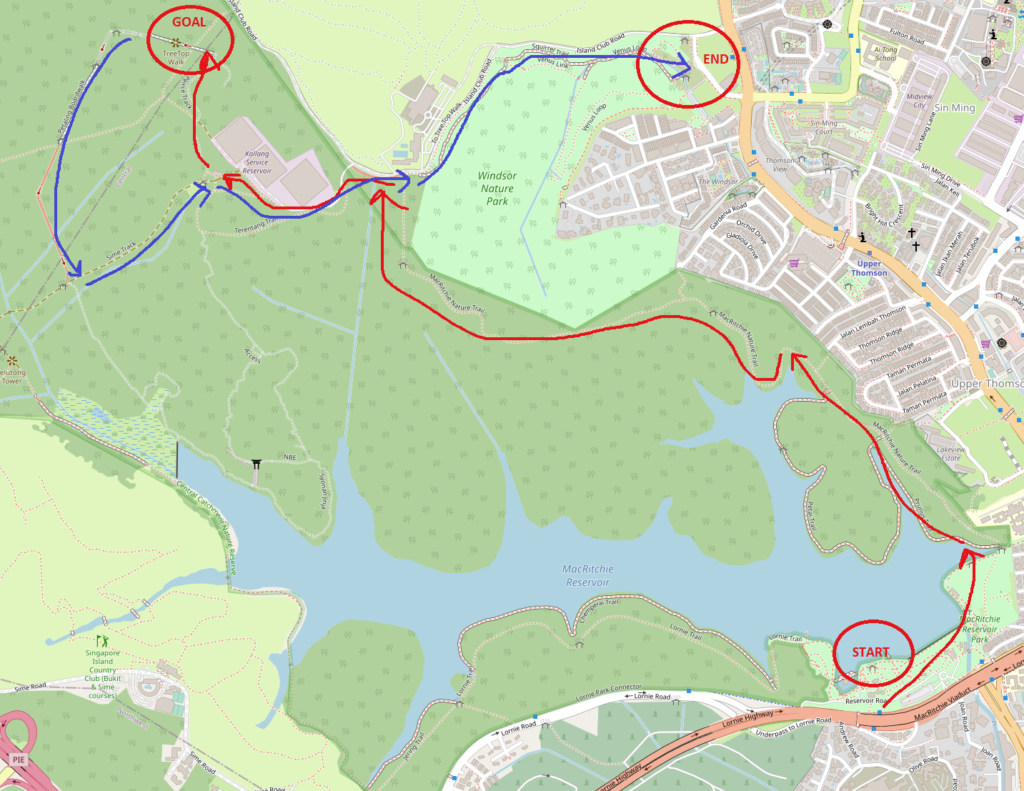 I reached TreeTop Walk around 10:30 am and exited at Winsdor Nature Park just shy of 12 pm. In total, I walked more than 10 km distance and clocked more than 14,000 steps!
After my solo hiking, I finally met up with my friend for lunch at Upper Thomson area. We had lunch at "Hello Arigato", a Japanese themed cafe which was so crowded even at weekdays. Their food was very pleasing not only to the eye but also to the mouth.
For dessert, we went to a vegan cafe called WellSmoocht for ice cream. Their ice cream tasted different, since they are vegan and therefore lacking dairy, but they didn't compromise in taste. I had two scoops: mango & passion fruit (passion fruit was overwhelming) and Vietnamese coffee (smell was nice and caffeine did kick).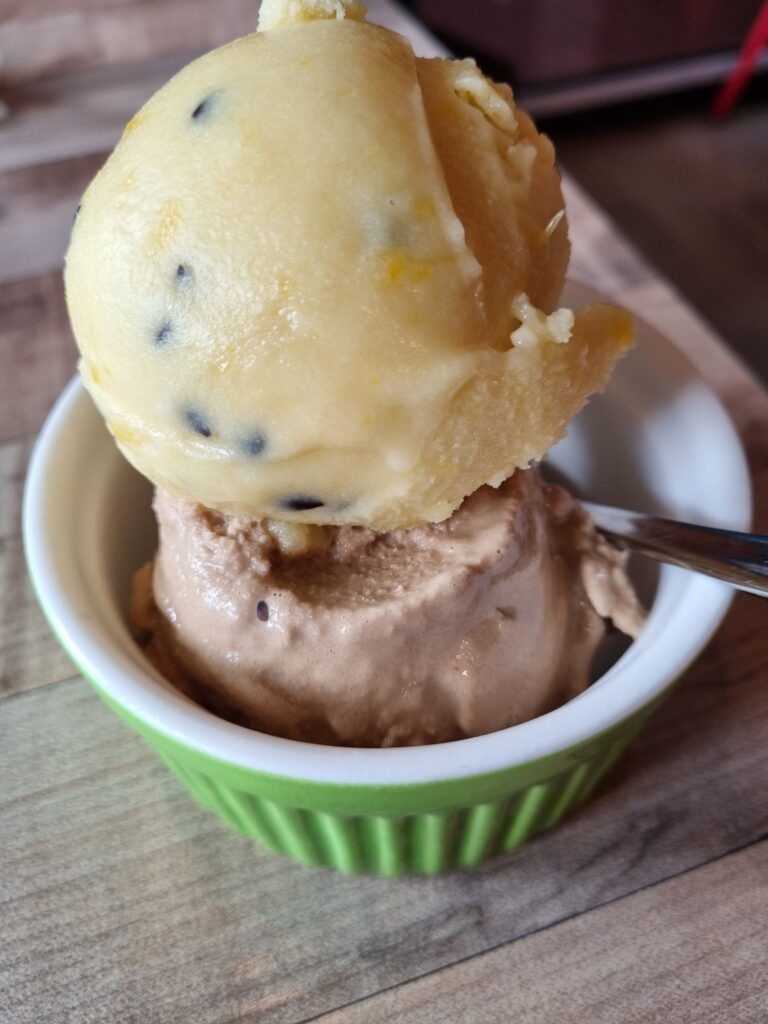 To spend the rest of afternoon, we decided to go for karaoke at Teo Heng JCube. After satisfied by singing for 2.5 hours, I ended the day with dinner at Keisuke Ramen at Don Don Donki food court.
Wednesday, 25 May
The main goal for the day was to watch "Doctor Strange in the Multiverse of Madness" and nothing else.
I went out to Jem a bit too early and most shops weren't open yet. I spent the morning having some snacks at Ikea. I also browsed the shops slowly as one by one they open for the day.
For lunch, I had it at Miam Miam at Westgate. I opted for their weekday lunch set: appetizer (Japanese tofu salad), main (Miam Miam spaghetti), drink (tea) and I added dessert (caramelized banana pancake). The main was pretty good as the pasta had lots of flavor in it. The dessert was huge, but it was nice as the pancake edge was crispy and the banana was well caramelized.
Right after lunch, I rushed to the cinema, purchased the ticket, and went straight inside. The movie itself was a decent one with great visual effects and pictures. However, I disliked the premise of the story where the villain (who was a superhero too) did whatever it takes to achieve their goals, harmed a lot of people, regretted it, tried a bit to fix the situations, and got away with it with no consequences. And this is not the first time this happened. It happened before with the same person in "WandaVision".
I ended the day and went home after bought take-away dinner from Don Don Donki.
Thursday, 26 May
This day I went to visit NUS Baba House. It was a guided tour at a peranakan heritage house. Peranakan is a term referring to the descendants of early Chinese settlers who are born locally and embraced the mixture of ancient Chinese and local Malay cultures.
When I entered inside the house, it was such a blast to the past. We weren't allowed to take pictures inside, so I can only describe with words.
The first room that we entered is the reception hall. This hall is decorated with black furniture, showcasing the richness of the owner. Very prominent in this hall is the altar with a protector deity facing the entrance. This symbolizes protection for the house. The small corridor behind the altar contained a bench that is used for the guards to rest during the night. The room after that is a place for the family to hang out. There is a big airway that provides ventilation and light. It also serves as a small indoor garden. The photographs of the family ancestors were hung in the wall. Connecting to this room is the dining room which has an altar for the ancestors. Behind this is a kitchen (which has been rebuilt). The original kitchen is located in a different adjoining house, showing the extent of how rich the original owner was.
The second floor is the private resting area: bedrooms. Stepping inside the second floor, the floor was kind of wobbly. Apparently the support is only wood and boards. That's also the reason that the tour group was small as the upper floors couldn't handle a very large group. The rear bedroom features European style bed frame and the master bedroom features Chinese style bed frame. One interesting thing is that in the master bedroom, there are peepholes at the floor, to check on the reception hall and also on the view right at the main entrance.
The third floor has been revamped into a modern exhibition gallery and there's nothing much to describe here except that there was a "ba gua" symbol painted at the rooftop.
After the tour, I went to browse the neighborhood since the area was earmarked as a heritage site and therefore the houses there has a very traditional facade.
For lunch, I went to Lucha Loco for elotes (grilled corn) as appetizer and chicken quesadilla as the main. The quesadilla featured juicy chicken with some cheese wrapped in crispy taco shell and some avocado and chili toppings. It somehow looked like a pizza, but tasted nothing like it. It was good!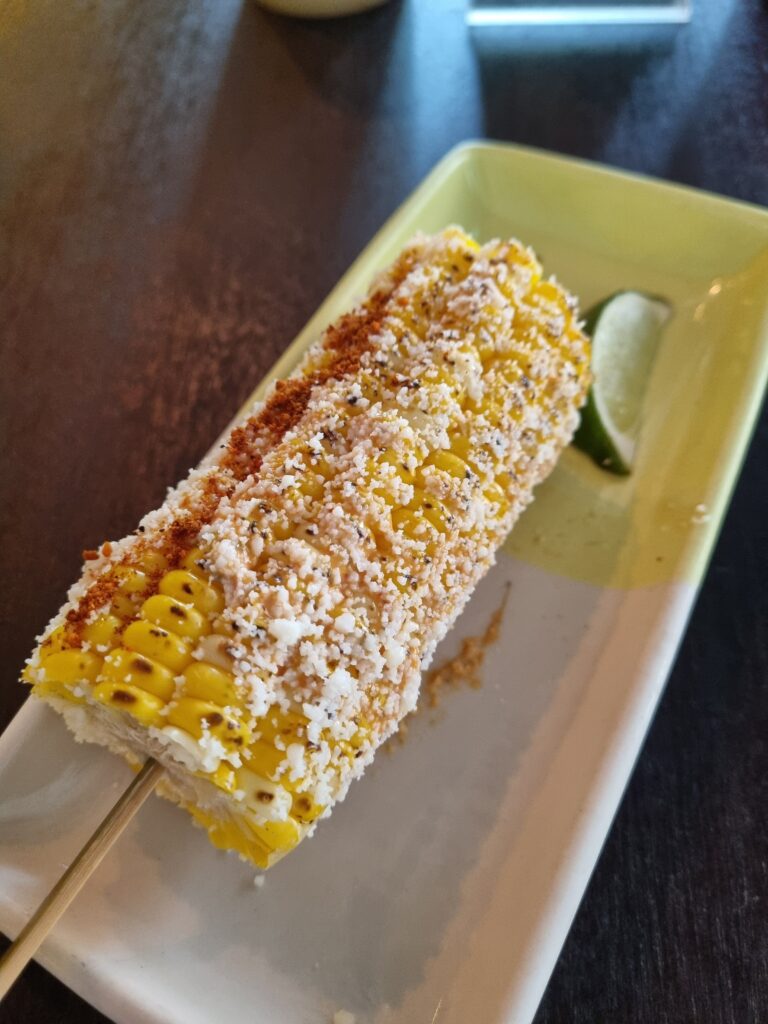 After lunch, I headed to Birds of Paradise at Craig Road. I had pandan and strawberry basil. Pandan was very fragrant and it tasted beautifully.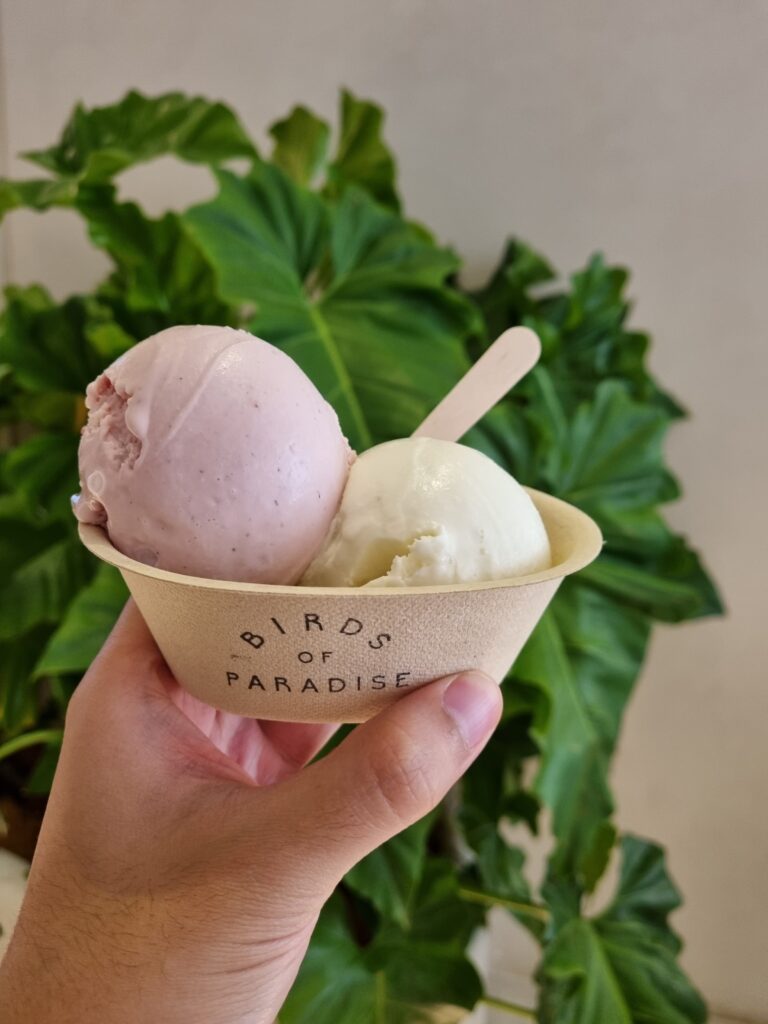 To spend the rest of the afternoon, I went to a museum "SAM at Tanjong Pagar Districpark" but apparently all the galleries were closed that day as they were doing works in setting up new exhibitions.
I went to VivoCity and spent the afternoon there instead. After shopping at the mall and reading book at library, I ended the day with dinner at The Queen & Mangosteen. I really loved the fish and chips: the fish was fresh, had a thin and crispy batter, and the tartar sauce blended very well. It was a great experience eating here although it was pricey.
Friday, 27 May
There was no exploration plan for this day as I spent doing other stuffs at home. I had lunch at Ayam Penyet President. Their chili rocks!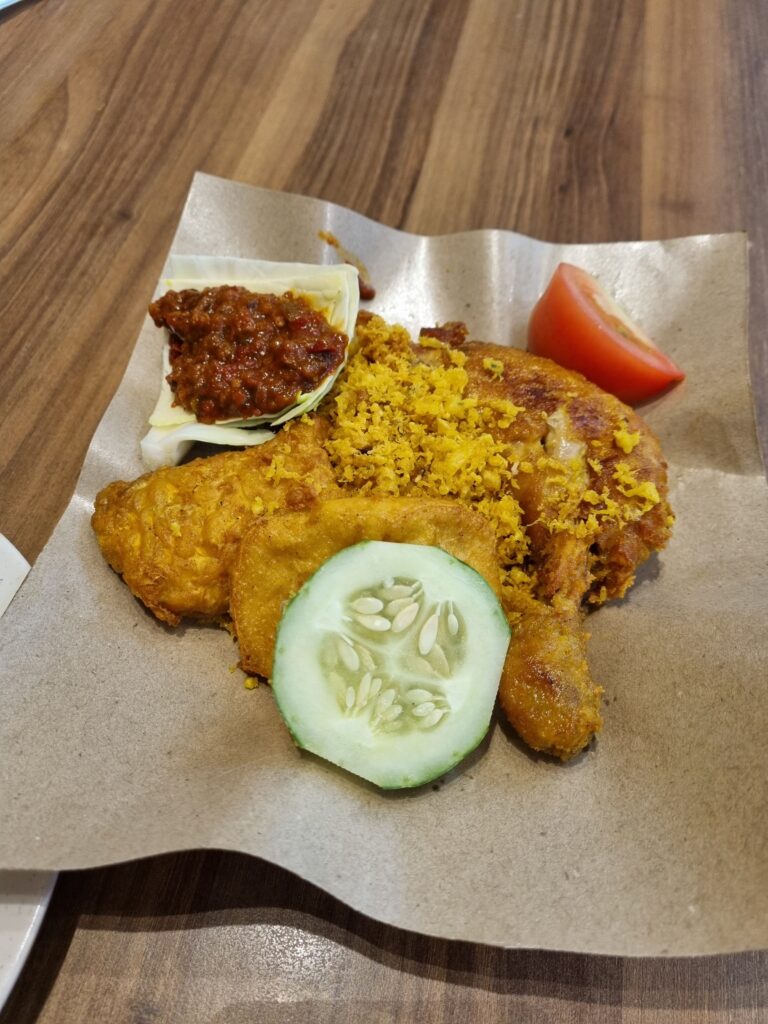 Conclusion
Another week of exploration has passed. The most memorable food I had was the fish & chips from The Queen & Mangosteen, and the best ice cream was pandan from Birds of Paradise.
This episode of exploration saw yet multiple occurrences of changed plans. I had to admit that a lot of it was due to lack of proper planning (didn't check some places' opening hours). However, as situations changed, there's no point on regretting and we should only move forward.
During this leave, I had loads of free time in between activities and food. It made me wonder, if this is how retirement look like: when your answer to "what's next" is absolutely nothing. I find it fascinating that the mind will this really uncomfortable being bored and it will eventually find something to occupy with.
Anyway, that's all for now. It has been an incredible experience exploring Singapore so far! I wonder when the next one will be 😆