14 August 2016
Today, marked the end of another CNS, Camp Nirvana Singapore, a Buddhist camp from NTUBS targeted to people new with NTUBS. This most likely be the my last CNS. But this is not the story about CNS 2016. This is the story of how I your camp master encountered CNS and how I met your camp master.
It all started in mid-2013, when I just graduated from my high school and waiting to come to NTU. That period, TOKI alumni had an online mentoring program to train the participants of NOI (National Olympiad in Informatics) 2013. Officially, I was assigned 3 participants to be mentored; and unofficially 1 other participant from Jambi (due to some technical issue, he was officially re-assigned to other TOKI alumnus). This unofficial mentee Jambi had a good skill in programming and we chatted frequently about the problemset that he faced and I explained to him the idea of the solution. This also greatly tested my understanding of my solutions. Few days before the competition, I sent him my problemset that I crafted on my own. As expected, he solved it nicely, but when I saw the list of solvers, another unknown person struck my attention as that person also solved the problem. He explained that this person joined the Math competition and has interest in programming too. After the tough competition, the participant that I am chatting quite often won silver medal; but that person joining Math didn't get any medal. We stopped chatting as life went on.
Few months later, we chatted again due to my curiosity on his UEE results; unfortunately he did not get to any Singapore university and went on to University of Indonesia through a special track since he was qualified to 2nd (correction) 1st stage of national training to IOI (update: normally it was 2nd stage attendees who are eligible for this special track, but somehow he got it). Suddenly, he informed me about his friend from his school has been accepted to NTU. He also mentioned that his friend will be interviewed for a scholarship in few days and he has interest in Buddhism. His friend's name is Dian.
Dian and me started to chat through Facebook, a lot, mostly regarding the preparations for coming to NTU, and being the CNS 2014 Logistic Manager, I subtly promoted CNS to him since May 2014, for example by saying that I'm currently busy preparing for CNS. 😈 And finally he registered as participant later on (around July), probably because he came to Singapore quite early and has nothing to do.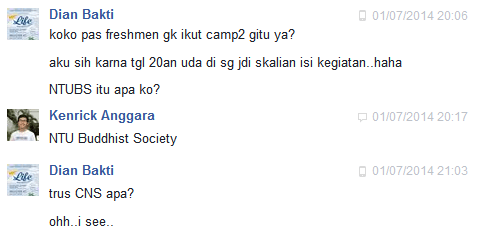 Translation:

Dian: During your freshmen (year), you didn't join any camps? I (want) since I'll arrive in Singapore around 20th (July 2014), to kill time also. And what is NTUBS?

me: NTU Buddhist Society

Dian: And then, what is CNS? *something happened* Oh I see.
I'm guessing that during that "something happened" period, I invited Dian to CNS's Facebook event page. And this, kids, is how your camp master encountered CNS.
Few weeks later, CNS started. He was assigned to Evando's OG. That time, his Facebook profile didn't have any photo of his face and I'm quite excited to know how he looked like :P . Since I was the logistic manager, I was extra busy especially due to the wet weather on Day 1 afternoon, where a station game was cancelled due to a heavy rain and we were "forced" to quickly move on to the next venue, Foo Hai Ch'an Monastery. Because of this, we couldn't properly met.
Still at Day 1, it was a showery afternoon at Foo Hai Ch'an, the program was dinner + shower. We met at the walkway to the toilet and had a quite awkward self-introduction and it was very short. For the rest of the camp, we didn't interact much (or not at all) as (1) I was not in my group most of the time, since I'm supporting the programmers for the logistics, and (2) we were not in the same OG and I think it was only during the mass wet games that we interacted again.
Regardless of that, I think he had a very good experience in this camp.

Subsequently, he joined NTUBS as event subcommittee, and the rest is history. And this, kids, is how I met your camp master.
One thing led to another and here we are, he is now the camp master of CNS 2016 and it was a truly amazing camp, thanks to him and his team. :)
---
One reason why I write this was because in CNS 2016 closing speech, Dian mentioned me for introducing him to CNS 2014 and he said that CNS 2014 was amazing and had became his source of motivation of doing this CNS 2016.