It has been a long time since someone asked me which animal was my favourite. The first time was in Rainbow School, grade 6, the teacher, named Jemmy, asked the class which animal we like. Most of them answered dogs, and cats, well someone answered tigers, and I answered penguin. When she asked why, I just simply answered, "Because I have a penguin-shaped doll."
The penguin doll which I have now is very long belonged to me. It has done "skin replacement", the replacement of the cloth that cover the doll, because the original one was easily damaged. The original one was smooth and cool when touched. Well, in my childhood, I love the doll because I can't bear the heat of the blanket, then I hug the doll and feel cooler.
Recently, when I'm starting to use WhatsApp messenger on my cellphone, there were many emoticons, including penguin. Actually, I've been called "koala" or something like that. They said that it was because of the size of my body and "my cuteness" (my friends told me that I'm "cute", I don't think so). Leonard assigned the emoticon koala to me. And I assigned the emoticon cat to him and pig to Edward. Then I constantly used the emoticon penguin to refer it to me. Leonard also assigned the emoticon hen to Lenny.
When travelling to Singapore, day 2, we visited Jurong Bird Park, there I found that there were special place for penguins. I was very excited to see them. It was my second time to see penguins with my own eyes. The first time was around December 2006 and January 2007, we visited Singapore and ever visited Singapore Zoo. (the photo below was taken at Singapore Zoo)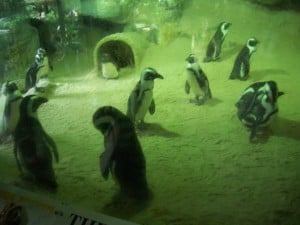 At Jurong Bird Park that time, I bought some penguins figurine to share to my friends as souvenirs. Actually I also wanted to buy a penguin doll which has a "WWF" logo attached for myself. But it was very expensive, around SGD40 (IDR300k).